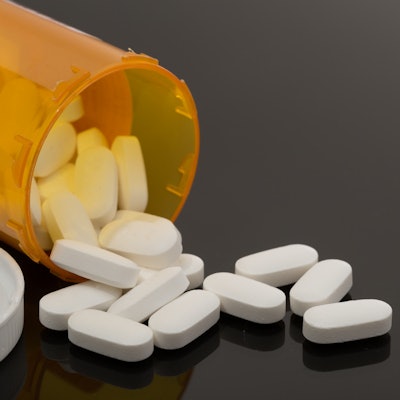 A prescription for antibiotics, the use of sedation, and even whether a dental student was involved in the procedure are just some of the factors that influence whether a prescription for opioids was given after a tooth extraction, reports a study published on June 9 in the Journal of the American Dental Association.
A prescription from a dentist is often a patient's first exposure to opioids. Although nonopioid analgesics are often recommended as a first-line defense against dental pain, U.S. dentists prescribe opioids at a much higher rate compared to dentists in other countries.
Tooth extractions account for most opioid prescriptions from dentists, but the characteristics that influence the likelihood that a prescription will be issued are not well understood. In the study, researchers identified some of the factors that influence whether an opioid will be prescribed following a tooth extraction.
"Improving understanding can facilitate development of tailored interventions to reduce unnecessary opioid prescribing," wrote the study authors, led by Douglas Oyler, PharmD, of the University of Kentucky (JADA, June 9, 2022).
Approximately 44,000 eligible records of patients who underwent tooth extraction at the College of Dentistry at the University of Kentucky were analyzed. The records spanned 2013 to 2020 and included patients 12 years of age and older. The primary consideration was whether an opioid prescription was issued related to the extraction.
Approximately 1 in 4 patients who underwent tooth extraction were prescribed opioids. These prescriptions were most commonly issued after more invasive procedures, like surgical extractions, extractions with sedation, and extractions of multiple teeth. The findings suggest that dentists actively consider procedural characteristics rather than blindly prescribing opioids.
"The implications of this finding are that provider-focused interventions that consider clinical context, motivations, and available evidence could help amplify the impact of systems-focused interventions," said the study's authors.
The study findings further suggest that more extensive and invasive procedures may warrant an opioid prescription. The association between coprescribed medications and an opioid prescription was significant in the study, with the receipt of an antibiotic prescription significantly increasing the likelihood of an opioid prescription. The clinical rationale for this association is unclear, though it's possible that providers prescribed opioids as secondary analgesics.
Importantly, Oyler et al observed a decrease in opioid prescriptions after 2018. This finding aligns with additional state legislation regulating opioid prescriptions that went into effect.
Resident and student clinics included in the study prescribed opioids significantly less often than other dentists, highlighting efforts from dental schools to combat the opioid crisis in the U.S. This finding may be indicative of the challenge to change ingrained behaviors, Oyler et al noted.
"Future studies should evaluate barriers and facilitators to behavior change, as well as effective strategies to reduce unnecessary opioid prescriptions from dental practices," the study authors concluded.