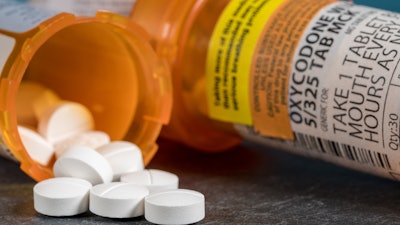 The University of Kentucky in Lexington has launched a $580,000 project that will work with dentists to reduce the number of opioid prescriptions given to young people, according to a report published by the school.
Dentists and oral surgeons are among the leading prescribers of opioids to adolescents and young adults, the university said. The project will be funded by a UG3 award from the U.S. National Institutes of Health (NIH).
Researchers from the university's college of dentistry and college of pharmacy will explore dental providers' pain management prescribing protocols and the issues that factor into their decision about whether or not to prescribe opioids. The initiative's principal investigators are Dr. Marcia Rojas-Ramirez and Doug Oyler, PharmD.
The team plans to collaborate with the U.S. National Institute for Dental and Craniofacial Research to recruit dental clinics to participate in the trial, according to the report. Once the project meets certain milestones, it will be eligible for $5.3 million from the NIH to fund a phase II effort, which will involve patient education about nonopioid pain management strategies.
Determining whether to prescribe opioids for pain management requires discernment, Oyler noted.
"We must understand, with pain management, that when the cons outweigh the pros, we shouldn't be using things like opioids," he said. "But of course, when the pros outweigh the cons, then it would make sense. There is a place for medication like this, and they've done a lot of good. But this is a balancing act."