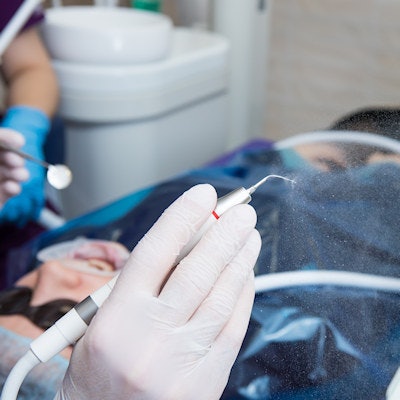 About 30% of U.S. clinicians prescribe antibiotics to patients during scaling and root planing, but dentists and periodontists write prescriptions for different reasons, according to a study published on August 26 in the Journal of the American Dental Association.
Members of the American Academy of Periodontology (AAP) not only prescribe systemic antibiotics for scaling and root planing much more often than members of the ADA, but the two groups also differ on several factors, including when they prescribe the medication, the authors wrote.
"This study confirmed a lack of clarity related to antibiotic prescription patterns in combination with nonsurgical periodontal treatment," wrote the authors, led by Dr. Effie Ioannidou of the University of Connecticut Health School of Dental Medicine.
Gum disease is the sixth most prevalent disease, according to the Global Burden of Disease, a study that measures epidemiological levels and trends worldwide. Globally, periodontitis causes an estimated $54 billion in lost productivity costs annually. Also, untreated gum disease affects the outcomes of systemic diseases, including diabetes and heart disease. Therefore, it is critical that clinicians know when and which antibiotics they should prescribe during treatment.
To understand antibiotic prescribing habits, a survey about prescription patterns was emailed to dentists and periodontists who reported performing scaling and root planing at their practices. Responses were received from 506 clinicians: 250 AAP members and 256 ADA members.
Of the participants, approximately 32% prescribed antibiotics to patients during periodontal therapy. However, when comparing the two groups, about 46% of AAP members prescribed antibiotics for scaling and root planing, but only approximately 19% of ADA members did the same, the authors wrote.
Also, there was a significant difference between the periodontists and dentists in prescription timing. Approximately 27% of AAP members prescribed antibiotics during the full course of scaling and planing, while about 21% of ADA members did, they wrote.
The most important clinical factor determining antibiotic prescribing in patients with periodontitis also varied among the two groups. About 58% of AAP members recognized the periodontitis progression rate, while most ADA members (about 35%) identified factors other than the disease progression and severity, according to the study.
Additionally, the groups weren't on the same page concerning the importance of bone loss affecting their decision-making about antibiotics. Of the AAP members, about 64% indicated bone loss as a critical determining factor, whereas approximately 17% of ADA members indicated that it was an important factor in determining whether they prescribe patients antibiotics, the authors wrote.
The study had a few limitations, including the low response from AAP members. The survey was sent to 3,470 periodontists, they wrote.
"Our study confirmed the need for further research to address the ultimate goal for an appropriate and personalized use of systemic antibiotics in the treatment of periodontitis," Ioannidou et al wrote.