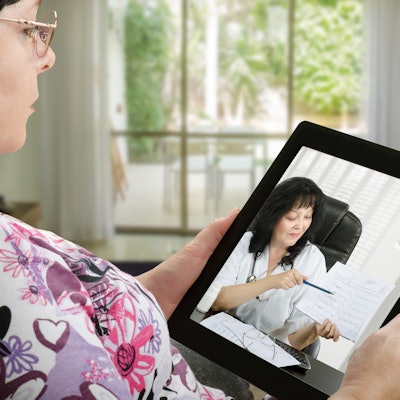 COVID-19 restrictions that prevented dentists from providing face-to-face care to patients led some dentists to overprescribe antibiotics for dental pain, a recent study by University of Manchester researchers has shown.
An analysis comparing antibiotic prescribing data in England before and after the pandemic was conducted using data from an online survey distributed to 159 dentists. The results were published in the British Dental Journal on October 28.
The study, led by Dr. Wendy Thompson, a practicing National Health Service dentist and clinical researcher at the University of Manchester, reported that dental antibiotic prescribing in England increased by 22% during the first year of the COVID-19 pandemic.
"We show that COVID-19 restrictions caused widespread frustration among dentists who know that procedures rather than prescriptions are generally the safest and quickest fix for a toothache," Thompson told the University of Manchester. "Though dental infections can be dangerous, most toothache is not caused by infection, so it is not helped by antibiotics at all."
Dental practices were forced to close in England at the start of the pandemic, and many dentists adopted telehealth and consulting by phone. In the pandemic's first year, study findings indicate that prescriptions for antibiotics increased by about 12% in London and about 29% in England.
More than 75% of respondents reported that patients requested antibiotics more frequently during the first year of the pandemic compared to previous years. Some dentists reported that remote management of patients during the pandemic has left a lasting impact on patient expectations about the ability to use antibiotics to avoid dental treatment.
"This study highlights that during the pandemic, restricted access to face-to-face dental care was directly linked to much higher antibiotic prescribing than in previous years," Thompson said. "That puts people at increased risk from adverse effects of antibiotics, such as upset stomach, severe allergy, and of course the development of antibiotic resistance."
Clinicians in London also expressed concern over the accuracy of their antibiotic prescriptions. Fewer than half of the survey respondents were certain of their remote diagnosis, and only one-quarter were confident in remotely treating patients with acute dental pain or infection.
"Understanding the essential need to keep antibiotics working, and their futility for many acute dental conditions should be fundamental knowledge for everyone involved with planning, managing, and delivering dental services," Thompson concluded. "This includes availability of dental procedures for people with toothache or infection, by ensuring urgent dental care teams are included as essential healthcare services with access to appropriate PPE during any future pandemic."