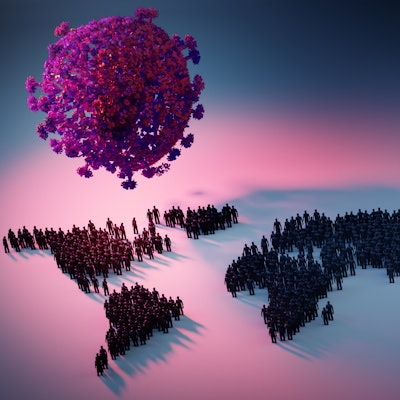 A dentist from British Columbia died at his home from COVID-19 following his attendance at the Pacific Dental Conference in March. The man is the province's first COVID-19 death at home, according to a report from the CBC.
Denis Vincent, DDS, who was one of about 32 people who tested positive for the novel coronavirus after attending the conference in Vancouver, died on March 22. Officials suspected his death was due to complications related to the infection. On March 30, the BC Coroners Service confirmed that his death was the result of infection with the novel coronavirus, according to the article.
On March 16, the British Columbia Ministry of Health asked all of the conference's approximately 15,000 attendees to self-isolate after the COVID-19 cases were connected to the event, held at the Vancouver Convention Centre from March 5-7. This is the same day that the College of Dental Surgeons of British Columbia recommended all nonessential and elective dental services be suspended immediately.
Dr. Vincent, who had been in practice for about 40 years, continued to see dental patients up until about a week prior to his death despite his positive tests and calls for self-isolation. Some patients have been concerned that he exposed them to the infection, according to the article.
On March 26, a 67-year-old man who worked at the convention center during the dental conference tested positive for the novel coronavirus and was admitted to the intensive care unit of a hospital in British Columbia. He assisted with banquets at the center, and he began feeling sick on March 10. The man's current condition is unknown, according to another CBC article.
Prior to the event, organizers of the Pacific Dental Conference announced on its website that cleaning was ramped up at the center and that it was bringing in more housekeeping staff and hand sanitizer stations. Public health officials said the risk of contracting COVID-19 was low at that time.
After a positive novel coronavirus case was linked to the conference, its organizers issued a statement on March 12, notifying attendees that the person was at the event on March 6 between 2 p.m. and 4 p.m. The organizers told others who attended during that period to monitor themselves for 14 days.
"There is no ongoing risk to the community, nor is there any further risk posed to the Vancouver Convention Centre," according to the statement.