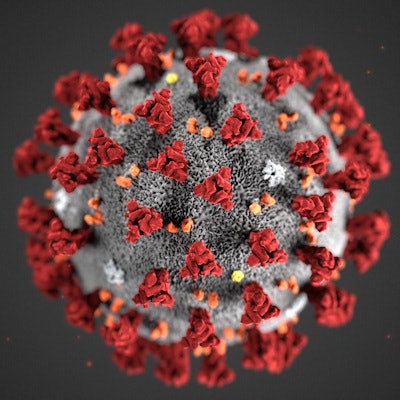 University Hospitals in Cleveland plans to begin a clinical trial that investigates whether an over-the-counter antiviral oral spray can prevent airborne transmission of COVID-19 to front-line healthcare workers.
ARMS-I, which is sold under the brand name Halo Oral Antiseptic, will be administered as an investigational drug to those working on the front lines of the COVID-19 pandemic. The study, which is expected to begin by the end of April, will assess whether it prevents airborne transmissions of COVID-19 and whether it reduces the frequency, duration, and severity of acute respiratory infection in those healthcare providers who may contract the virus, according to a release issued by the hospital.
"Our healthcare workers risk exposure to the coronavirus every day and it's important to find strategies that might help them, beyond providing personal protective equipment," said principal investigator Robert Salata, MD, chairman of the department of medicine at UH Cleveland Medical Center, in the hospital release.
Though UH Cleveland Medical Center will lead the clinical trial, it will work closely with ARMS Pharmaceutical, the manufacturer of the spray, as well as Case Western Reserve University. The Cleveland Foundation has authorized $1 million in emergency funding to support a significant portion of the clinical trial.
The trial is a randomized placebo-controlled crossover study in which participants will include clinical staff who care directly for patients who tested positive for the virus. All participants will get the investigational drug even if they started with the placebo. Halo, which sells for less than $15 at pharmacies and other retailers, has been taken off the market to ensure that enough is available for the trial.
Laboratory studies have shown that ARMS-I can kill enveloped viruses, including influenza. Researchers find the spray promising because COVID-19 is also an enveloped virus. Preclinical data are encouraging, but studies in humans are necessary to determine whether the product is effective against specific pathogens.
"The theory is that once applied to the back of the throat, ARMS-I may work to prevent new airborne viral particles from attaching to the back of the oral cavity called the oropharynx and therefore stop transmission," said Afif Ghannoum, CEO of ARMS Pharmaceutical.
If the trial is successful, ARMS will work closely with the U.S. Food and Drug Administration (FDA) and other relevant authorities to swiftly secure the necessary approvals to manufacture the product in quantities necessary to broadly protect healthcare workers working directly with COVID-19 patients.
"It's our belief that this trial will lead to rapid improvement in the health and well-being of front-line healthcare workers in our community as well as around the world," said Pamela Davis, MD, dean of Case Western Reserve University School of Medicine.
Previous research on Halo
In 2012, clinical researchers at University Hospitals Case Medical Center presented findings indicating that an oral antiseptic spray was effective in killing 99.9% of infectious airborne germs, like influenza and rhinovirus. The results led to the development of Halo, according to a ScienceDaily press release.
The spray uses glycerine and xanthan gum to create a microbial barrier, preventing the germs from entering a person's body. It also contains cetylpyridinium chloride as a broad-spectrum anti-infective agent, which kills germs. Researchers used clinical strains of the 2009 pandemic H1N1 as a prototype virus to demonstrate Halo's anti-infective activity in cell culture tests.
The findings showed that Halo has the potential to aid against infection and reduce disease from epidemic, sporadic, or pandemic respiratory viral infections, particularly helping people at risk for severe respiratory illness, including those with weakened immune systems.
Also, in 2012, another study showed that the oral spray was effective against disease-causing pathogenic germs. Researchers found that Halo completely killed all 11 clinical strains of whooping cough against which the spray was tested. The results showed that when a person used three sprays of Halo, it destroyed airborne germs breathed in for up to six hours, even when an individual ate or drank, according to the release.