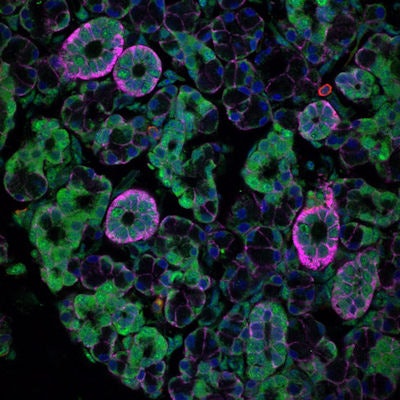 A class of viruses known to cause severe diarrheal diseases can grow in the salivary glands of mice and be spread through saliva, scientists at the National Institutes of Health have found. The findings indicate that a new route of transmission exists for these viruses, which affect billions of people worldwide each year and can be deadly.
The transmission of enteric viruses through saliva suggests that coughing, sneezing, sharing food and utensils, and kissing can potentially spread the virus. The findings still need to be confirmed in human studies, but they could lead to more effective ways to prevent, diagnose, and treat diseases caused by these viruses.
Enteric viruses, like noroviruses and rotaviruses, are known to be spread by eating food or drinking liquids contaminated with fecal matter containing these viruses. These viruses were thought to bypass the salivary gland and target the intestines, later exiting through feces.
Researchers will now need to confirm that transmission of enteric viruses through saliva is possible in humans. This potential finding could explain why a high number of enteric virus infections fail to adequately account for fecal transmission as the only transmission route.