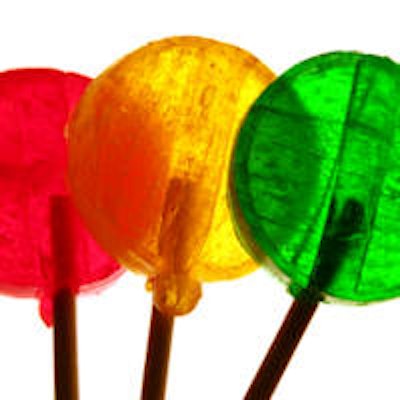 Sugar-free lollipops containing glycyrrhizol A successfully beat back the prominent oral pathogens Streptococcus mutans, Porphyromonas gingivalis, and Prevotella intermedia, at least in the laboratory.
A University of Iowa team presented a study last month at the International Association for Dental Research's 2013 annual meeting showing that a solution made from dissolved glycyrrhizol-A-containing sugar-free herbal lollipops inhibits the growth of these three types of oral bacteria.
The solution did not, however, have the same effect on three other types of bacteria associated with periodontal disease: Aggregatibacter actinomycetemcomitans, Tannerella forsythia, and Treponema socranskii.
Previous studies have shown that these lollipops -- which contain the active ingredient glycyrrhizol A, a compound derived from licorice root -- are efficacious against cavity-causing bacteria (see, for example, International Journal of Oral Science, January 2011; Vol. 3:1, pp. 13-20). But few have focused on the lollipops' effects on periodontal pathogens.
Dentistry student Hannah Anderson, bolstered by funding from an Iowa Dental Research Grant and the Iowa College of Dentistry Student Research Program, tested the effects of Dr. John's Candies' glycyrrhizol-A-containing sugar-free lollipops.
She dissolved the lollipops into a solution that she poured into the center of agar plates, each of which was inoculated with one of the six types of bacteria. She did the same thing with placebo sugar-free lollipops, then let the agar plates incubate in an anaerobic chamber for two days. She repeated this procedure three times to verify the results.
When Anderson pulled the plates out of the chamber, she found a significant zone of growth inhibition of S. mutans and P. gingivalis around the dollops of glycyrrhizol-A-lollipop solution, as well as a bit of inhibition of P. intermedia. There was no inhibition at all of A. actinomycetemcomitans, T. forsythia, or T. socranskii, nor of any of the bacteria by the placebo solution.
Anderson also used crude methods -- boiling and warming, in some cases followed by filtering -- to try and extract glycyrrhizol A from an organic licorice-root herbal supplement. None of the resulting solutions inhibited bacteria.
"This may indicate that a home remedy such as brewing a licorice tea from a root supplement would be unlikely to have any benefit against periodontal disease," Anderson told DrBicuspid.com.