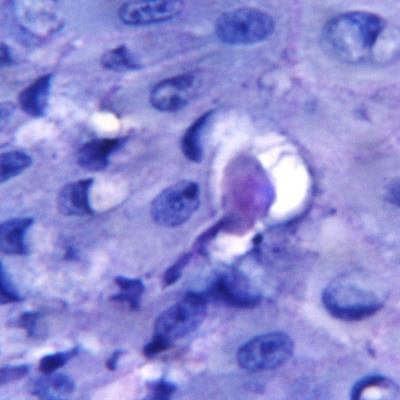 Entamoeba gingivalis, a parasite found in the mouth, may be an underestimated source of oral inflammation that causes destructive forms of periodontitis, according to a study published in the May issue of the Journal of Dental Research.
Eliminating the parasite, which penetrates gum tissue and feeds on host cells, may improve treatment effectiveness and long-term outcomes in patients with gum disease, according to the authors.
"In conjunction with abundant colonization of inflamed periodontal sites and the known resistance of Entamoeba species to neutrophils, antimicrobial peptides, and various antibiotics, our results raise the awareness of this protozoan as a potential and, to date, underrated microbial driver of destructive forms of periodontitis," wrote the group, led by Arne Schäfer, PhD, head of the periodontology research unit at Charité's Institute of Dental and Craniofacial Sciences in Berlin (J Dent Res, May 2020, Vol. 99:5, pp. 561-567).
A major problem
Periodontitis is one of the most common chronic diseases in the world. Treatment success is often short-lived, and a lack of treatment can cause tooth loss. Those with the disease also are at a greater risk of arthritis, cardiovascular disease, and cancer.
Patients with periodontitis show a decrease in the diversity of the oral microbiome that corresponds with an uptick in the frequency of E. gingivalis. The parasite invades the oral mucosa and destroys gingival tissue, enabling increased numbers of bacteria to invade the tissue. This worsens inflammation and tissue destruction, according to the authors.
The study, which was funded by the medical faculty at Charité and the Chinese Scholarship Council, aimed to validate the frequency of the parasite by analyzing the gums of 158 people using polymerase chain reaction tests. Of those who participated in the study, 51 had periodontitis.
E. gingivalis was detected in 77% of inflamed periodontal sites and 22% of healthy sites in patients diagnosed with periodontitis, showing a link between oral inflammation and colonization, according to Schäfer and colleagues.
The parasite was found in the oral cavities of 15% of the 107 participants who did not have gum disease, the authors noted.
The direct contact of E. gingivalis with gingival epithelial cells inhibited cell growth and eventually led to cell death, they wrote.
Another connection
Scientists were already familiar with the virulence potential of this genus of amoebae. For instance, the gastrointestinal parasite E. histolytica causes a disease known as amebiasis, one of the most common causes of death from parasitic diseases worldwide. The current study shows parallels between E. gingivalis and E. histolytica; both show similar mechanisms of tissue invasion and elicit similar immune responses in the host.
Current periodontal treatments do not consider the potential of infection by E. gingivalis. The study, which had no limitations, should have clinicians rethinking the way they treat gum disease, the authors wrote.
"Practicing dentists should make sure that inflamed periodontal pockets and tissue are cleared of this protozoa," they concluded.