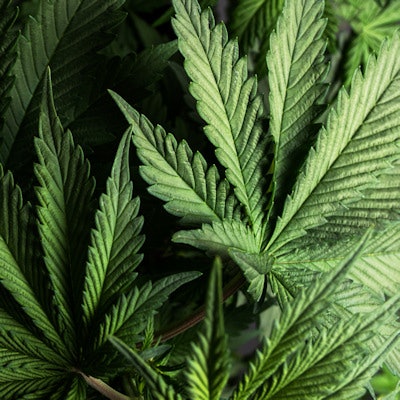 Chemicals found in cannabis or cannabinoids may be more effective at reducing bacteria associated with dental plaque than well-established synthetic oral care products, according to a recent study published in the Cureus Journal of Medical Science.
Cannabinoids were more effective than toothpastes made by Procter & Gamble's Oral-B, Colgate-Palmolive's Colgate, or Cannabite F (CannIBite), which is formulated with pomegranate and algae, according to the results.
"Cannabinoids have the potential to be used as an effective antibacterial agent against dental plaque-associated bacteria," wrote the authors, led by Veronica Stahl, DDS, of Euro Dental in Belgium (Cureus, January 29, 2020, Vol. 12:1, p. e6809).
Another alternative
Choosing the most appropriate oral healthcare products can improve health and prevent dental diseases. However, many consumers have difficulties selecting the right ones, since the bacterial composition for each person's oral biofilm varies. Understanding the efficacy of which products work best can help curb dental problems, which would also help curb other health conditions associated with poor oral health, such as diabetes and heart failure.
Between January 2019 and March 2019, researchers took samples from 60 adults between the ages of 18 and 65 with varying levels of gum health. The samples were broken down into six groups for comparison among treatment types. Each sample was tested with the following:
Oral B toothpaste
Colgate toothpaste
Cannabite F toothpaste
Cannabidiol (CBD)
Cannabichromene (CBC)
Cannabinol (CBN)
Cannabigerol (CBG)
Cannabigerolic acid (CBGA)
The maximum bacterial growth was observed in those that were exposed to toothpastes made by Oral B, Colgate, and Cannabite F treatments, according to the results.
The bacterial colony count was lower in those samples that were exposed to cannabinoid treatments over any of the toothpastes. Among the cannabinoids tested, CBN and CBC were the most effective, the authors wrote.
No. of bacterial colonies based on different treatments
Treatment type
Group 1
Group 2
Group 3
Group 4
Group 5
Group 6
CBGA
13
4
9
3
14
5
CBN
4
8
3
7
2
1
CBG
20
12
8
4
8
9
CBD
7
6
8
6
5
8
CBC
11
3
2
11
9
2
Oral-B
35
38
25
31
38
34
Colgate
12
27
34
25
32
27
Cannabite F
14
32
18
21
21
24
The study was not without limitations, including that its sample size was small, that is too few participants for a clinical trial. Also, the study included both patients with normal periodontal conditions and those with gingivitis and periodontitis. In the future, more randomized controlled trials should be conducted for longer periods with a larger group of participants who only have been diagnosed with periodontitis, the researchers noted. Finally, this was a preliminary observatory study that didn't involve replicates.
Time to learn more
Though the study shows cannabinoids as beneficial to improving oral health, more studies should be conducted to better understand their connection, according to the authors.
"Reducing the bacterial content could significantly decrease and prevent gum diseases that have become a huge global burden owing to their direct relation with systemic diseases," they wrote.