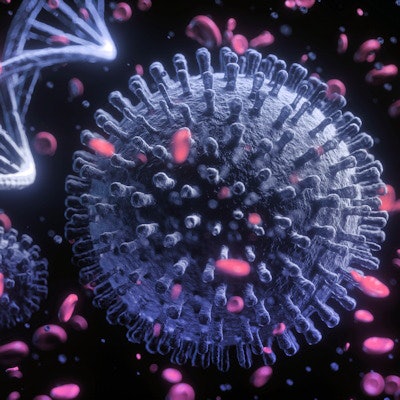 COVID-19 testing kits that include preservatives can help researchers measure the oral microbiome, according to a study published on November 18 in NPJ Biofilms and Microbiomes. These tests may be able to reveal a connection between the oral microbiome and COVID-19.
Researchers collected 56 saliva samples from 22 subjects and performed genomic analysis on the samples. The study was the first to test the accuracy of oral bacteria measurements in saliva-based, at-home COVID-19 tests, the researchers noted.
"By studying the mouth microbiome in these banked samples of people with or without COVID-19, we can get an idea of how the microbial environment in the mouth and lung might impact the disease," stated lead author Abigail Armstrong, PhD, a postdoctoral fellow at the Center for Advanced Biotechnology and Medicine (CABM) at Rutgers University, in a press release.
The researchers used saliva samples both with and without preservatives, performing gene sequencing on the samples to observe the diversity of the subjects' microbiomes.
Saliva samples from COVID-19 testing kits, which have preservatives to maintain SARS-CoV-2 RNA, allowed for accurate measurements of participants' oral bacteria, Armstrong and colleagues found. The COVID-19 test kit samples also gave a more stable picture of the microbiome over time compared to saliva samples collected in kits that did not have preservatives.
Until this study, researchers did not know whether at-home COVID-19 tests would preserve the bacterial genetic material. The findings demonstrated the feasibility of oral microbiome analysis with at-home COVID-19 testing.
"This work puts us into a position to examine the many saliva specimens we have obtained from Rutgers study subjects volunteering to participate in COVID investigations," stated senior author Dr. Martin Blaser, CABM director.