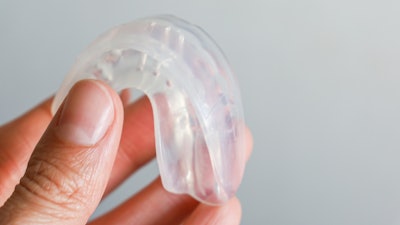 Martial artist Mike Santoro, a New Jersey resident who has won international titles and medals in karate and Taekwondo, has developed a self-cleaning mouthguard case that may begin its first production run in October.
G'rilla Box has a U.S. patent-pending built-in cleaning function that makes it easier to keep mouthguards clean and free of tooth decay-causing oral bacteria. Each case has a refillable cleaning solution bay for its alcohol-free G'rilla Juice. With a squeeze and a shake of the case, a mouthguard is cleaned, according to Santoro.
To tweak the product and bring it to market, Santoro has launched a campaign on Kickstarter. As of July 13, the campaign has reached about $2,000 of its $5,000 goal. The campaign ends on July 27. The project will only be funded if the goal is met, according to the campaign's Kickstarter page.
Santoro came up with the idea because he often forgot to clean his mouthguard, like many athletes, while competing. Studies have shown that more than half of athletes never clean their mouthpieces. Santoro added that many guard cases don't close properly, making it difficult to keep the appliances clean, according to the martial artist.
View this video to learn more about G'rilla Box.