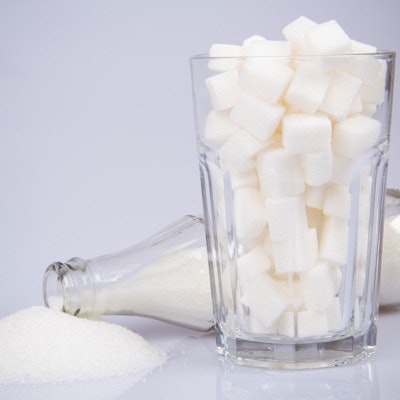 Overweight and obese children consume more calories from sugary drinks than children who are a normal weight, according to research presented at a major conference on obesity. The researchers suggest a tax on sugary drinks may lower the childhood obesity rate and improve kids' overall health.
Sugary drinks have been linked to obesity, diabetes, and dental decay, and more countries and organizations are calling for taxes on sugar-sweetened beverages. With Ireland set to implement a tax on sugary drinks in April 2018, a team of researchers investigated if sugar-sweetened beverage consumption was associated with obesity in Irish children. They presented their findings at the recent 2017 European Congress on Obesity (ECO) in Porto, Portugal.
"While no single measure will reverse current trends in obesity, a multicomponent strategy, including a targeted approach toward improving the food environment, will be necessary," wrote lead author Janas Harrington, PhD, and colleagues in a paper presented at ECO. "Given the high level of consumption of sugar-sweetened drinks and the lack of nutritional value of these products, action needs to be taken to reduce consumption of these products, particularly in children."
Harrington is a senior lecturer in the department of epidemiology and public health at University College Cork. Her research focuses on dietary patterns and the association between diet and chronic disease.
Sugary drinks and kids' diets
Previous research has linked consumption of sugary drinks to weight gain in children, and some researchers point to sugar as the primary cause of dental caries. To help prevent these oral and systemic diseases, some cities and countries have implemented a tax on sugar-sweetened beverages. Early evidence from Mexico indicates that taxing sugary drinks lead to a significant drop in consumption, and one study showed that a 20% tax on sugar-sweetened beverages could reduce the number of new carious lesions over a 10-year period.
"Action needs to be taken to reduce consumption of these products, particularly in children."
— Janas Harrington, PhD, and colleagues
These positive findings have led more countries, including Ireland, to consider taxing sugary drinks. The researchers, therefore, sought to find out whether an impending a tax in Ireland may help prevent obesity in children.
The researchers began by asking 724 children ages 8 and 11 to complete a food diary, in which the children estimated their food and drink consumption for three days. From the diaries, the researchers assessed how often each student consumed sugar-sweetened drinks. They then inputted the children's estimated food and drink consumption into a software program that outputted plausible energy (calories) reports.
Children who were overweight or obese consumed about 30% more calories from sugar-sweetened beverages. These children consumed an average of 155 calories from sugary drinks, compared with an average of 107 calories for children with a normal weight.
Furthermore, 4 out of 5 children regularly consumed sugar-sweetened beverages, with an average sugary drink consumption of 330 mL per day, the researchers found. Sugary drinks accounted for 6% of the children's total calorie intake and 22% of their total sugar intake, which is more than the World Health Organization (WHO) recommends for those who desire health benefits.
"WHO recommends that if people do consume free sugars, they keep their intake below 10% of their total energy needs, and reduce it to less than 5% for additional health benefits," stated Francesco Branca, director of WHO's department of nutrition for health and development, in a WHO press release. "This is equivalent to less than a single serving (at least 250 mL) of commonly consumed sugary drinks per day."
An impending sugary drink tax
Because the researchers relied on the children to recall their food and drink consumption, there could be biases and errors in what the children reported, the study authors noted. In addition, the researchers didn't estimate the effect of sugar consumption on dental disease specifically.
Nevertheless, with Ireland set to start taxing sugar-sweetened beverages in April 2018, the research provides an important base to see how the tax might affect sugar consumption and obesity rates. Researchers will be eagerly following the tax to see if it has an effect on diseases and overall health, and, if so, how large that effect will be.
"There is a compelling case for the introduction of public policy to reduce sugar-sweetened drinks consumption in the population," the authors concluded. "The introduction of a tax on sugar-sweetened drinks in combination with other public health interventions has the potential to have a measurable effect on the scale of the epidemic of childhood obesity."