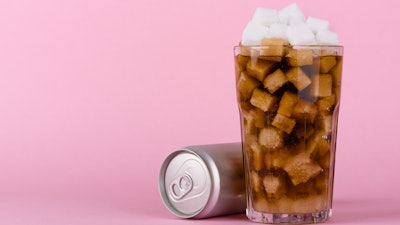 Residents in Oakland, CA, have bought fewer sugary beverages since a local soda tax went into effect, which is likely improving their health, according to a study published on April 18 in PLOS Medicine.
Researchers at the University of California, San Francisco reported that purchases of sugar-sweetened beverages dropped by 26.8% between July 2017 and December 2019 compared to similar cities that did not have a beverage tax.
"These latest results suggest [sugar-sweetened beverage] taxes can meaningfully improve diet and health and generate substantial cost savings over a sustained period of time, all of which support the case for a national tax on [sugar-sweetened beverages]," said senior author Dean Schillinger, in a news release from the university.
Past research has shown that consuming sugar-sweetened beverages is associated with a higher risk of obesity, type 2 diabetes, and cardiovascular disease.
The researchers compared sugary drink purchases in Oakland to purchases in nearby Richmond and Los Angeles, which have no beverage tax. They looked at consumer behavior in these cities in the 30 months before and after the 1¢-per-ounce tax went into effect on July 1, 2017.
Next, the researchers used computer modeling to estimate how reduced sugar-sweetened beverage purchases affected community health, as measured by quality-adjusted life years (QALYs). In addition, they calculated the healthcare cost savings of preventing or controlling sugar-sweetened beverage-associated diseases, such as diabetes, heart disease, stroke, and gum disease.
According to the findings, consuming 26.8% fewer sugar-sweetened beverages over 10 years added 94 QALYs per 10,000 residents and saved the city more than $100,000 per 10,000 residents in healthcare costs, with gains that are expected to increase over a lifetime.
"Our estimates suggest this tax is at least as cost-effective as other widely recognized public health interventions such as smoke-free workplace policies and air pollution control measures," added first author Justin White, PhD.
Ultimately, the study provides voters with evidence that allowing such taxes can yield significant benefits to society, the researchers suggested.
"We hope that legislators at the state and national level act on these findings," Schillinger said.