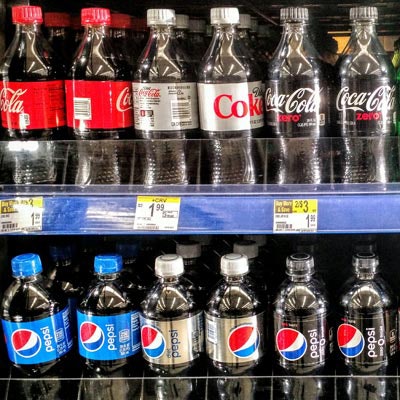 The sugar content of sodas sold in the U.K. is going down, according to new research published on January 13 in BMC Medicine. The reduction in sugar content is likely because of changing consumer habits, but also because a tiered tax law went into effect in 2018.
The volume of sugars in soft drinks declined by more than 4.5 grams per person per day between 2015 and 2018, researcher found. The vast majority of the reduction in sugars sold was due to companies reformulating existing products or introducing lower-sugar drink options, which could be the result of a tiered tax system that the U.K. implemented in 2018. The tax placed a levy on manufacturers who sell high- and medium-sugary drinks -- but not low-sugar ones.
"This study is not designed to evaluate the specific effects of the [soft drink industry levy], but nonetheless shows that sustained pressure on business, including using fiscal measures, has led to a striking reduction in the sugar content of soft drinks in the U.K.," stated lead study author Lauren Bandy, a doctoral student at the University of Oxford Nuffield Department of Population Health, in a press release.
Sugary drinks are linked to a number of health concerns, including caries and obesity. Soft drinks are also one of the major sources of sugar consumption for adults and children in the U.S. and Europe.
To reduce sugar consumption, the U.K. implemented a tiered tax on sugar-sweetened soft drinks in 2018:
24 pence (34¢ U.S.)/L levy on high-sugar drinks, defined as beverages with more than 8 grams of sugar per 100 mL
18 pence (23¢)/L levy on medium-sugar drinks, defined as beverages with between 5 grams and 8 grams of sugar per 100 mL
No levy on unsweetened drinks, flavored milk drinks, and low-sugar drinks, defined as beverages with less than 5 grams of sugar per 100 mL
Researchers estimated the contribution of sugar to the food supply before and after the tax went into effect. High- and medium-sugar drink sales fell from 31% of all beverage sales in 2015 to just 15% of sales in 2018.
During those years, the sugar content of high- and medium-sugar drinks also fell, while the sugar content of low-sugar drinks rose. However, once adjusted for sales, the mean sugar content of all soft drinks decreased by 34%.
Among drink types, energy drinks had the greatest drop in sugar content when weighted by sales. Meanwhile, 100% juice and sports drinks had minimal changes.
Coca-Cola, the company with the largest volume of sales, decreased the total volume of sugars sold by 17% between 2015 and 2018. In that time frame, it also increased sales.
"Overall, volume sales have increased while the sugar content has declined, which highlights the opportunity for improvements in public health to be consistent with successful business practices -- although we recognize that volume sales are only one indicator of a company's success," the authors wrote.
The research findings suggest that the levy, along with changing consumer habits, may contribute to a trend of decreasing sugar in drinks. The trend is encouraging, according to Bandy.
"This is largely a result of change in the composition of drinks, but there have also been shifts in consumer purchasing behavior, with more consumers choosing drinks with low, or no, sugar content," she stated. "These changes are likely to be due to a combination of government action, mostly through the [levy], changes in marketing practices on the part of the soft drinks industry, and greater awareness of the harms caused by sugary drinks amongst consumers."