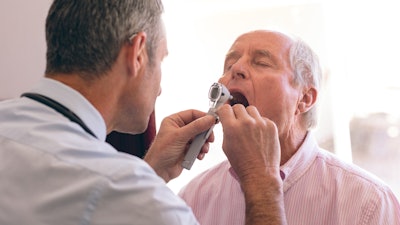 Researchers, led by Dr. Hemamalini Chandrashekhar of Rutgers University in New Jersey, described in a recent case report diagnosing a patient with lymphoma that was camouflaged by jaw pain, fainting, and headaches.
The case exemplifies that thorough knowledge of head and neck anatomy can help dentists identify causes of orofacial pain in their patients -- even cancer, according to the study published in June in the Journal of the American Dental Association.
"Lymphomas of parapharyngeal space often have complex manifestations, posing a diagnostic dilemma for clinicians," the group noted (JADA, June 28, 2023).
The investigators presented the case of a 64-year-old man treated after four months of right-sided headache and jaw pain associated with fainting, all of which started with a toothache, they wrote. The man had undergone many diagnostic tests recommended by specialists but experienced no relief.
In the end, the results of a thorough clinical and radiologic examination by an orofacial pain specialist diagnosed diffuse large B-cell lymphoma in the man's parapharynx.
A thorough knowledge of the head and neck anatomy helps in identifying the pathophysiology of complex orofacial pain manifestations, which assists in early diagnosis and treatment," the team concluded.