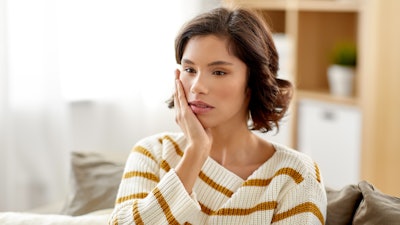 Nearly 3 in 10 Britons have taken time off from work because of tooth pain -- equivalent to 11.7 million working-age people -- according to a survey conducted by Denplan, a dental plan provider in the U.K.
The results are part of Denplan's soon-to-be-published "2023 Oral Health Survey" of over 5,000 U.K. consumers. The survey also showed that about 7% of U.K. residents have taken more than a week off of work due to dental pain. In all, 23 million sick days, equivalent to 93,000 full-time jobs, have been taken because of reported dental pain, according to the survey.
Other findings from the forthcoming survey include the following:
About 9% of people reported that pain from toothaches has affected their quality of work and productivity when working.


About 12% of respondents reported trying to book a National Health Service dental appointment but have not been seen yet because the waiting lists are too long.


About 32% of people worry about the cost of going to a dentist, with 23% concerned that dentists will advise unaffordable treatments.


Of respondents with a dental plan, 63% say they have a plan to help them spread the costs or budget for dental costs, and 27% have it provided by their employer.
Denplan recently submitted evidence to a parliamentary health and social care committee inquiry into a U.K. oral health provision. It said it would continue to advocate for better recognition of dentists, as well as improved support for dentists to boost recruitment and retention.