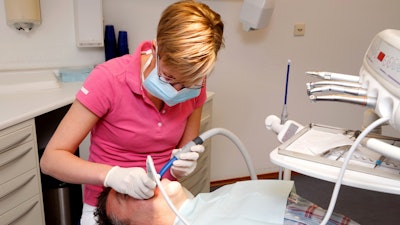 In the U.S., dental hygiene scopes of practice have expanded, but laws, which vary by state, significantly affect patients' access to preventive care and therapy from hygienists. The letter was published on October 7 in the International Journal of Dental Hygiene.
In the last two decades, progress has been made on this front, but more steps should be taken, including modifying state practice acts to empower hygienists to practice to the full extent of their education and training, the authors wrote.
"It will take professional organizations such as the American Dental Hygienists, and the American Association of Public Health Dentistry, along with the support of all dental hygienists and advocates for direct access to become a standard of care across all of the US," wrote the authors, led by Cynthia Gadbury-Amyot, MSDH, EdD, of the division of dental hygiene at the University of Missouri-Kansas City in Missouri.
One of the top priorities of the American Dental Hygienist Association (ADHA), which represents 226,000 registered dental hygienists in the U.S., is boosting access to oral healthcare for all populations.
In 2000, there were only a handful of states, including Colorado, Oregon, and California, that allowed for some sort of direct access to dental hygienists. Over time, direct access gradually progressed, and by 2021, 43 states allowed some sort of direct access to oral health services from hygienists. Alabama, Delaware, Hawaii, Louisiana, Mississippi, North Carolina, North Dakota, and New Jersey are the only states that don't allow any direct access to hygienists, according to the letter.
Despite universal standards for dental hygiene education programs in the U.S. established by the Commission on Dental Accreditation, there is widespread variation in the practice of dental hygiene. Patient participation eligibility, the extent of dentist supervision, allowed work settings, licensure requirements, reimbursement practices, and the overall effectiveness of policy implementation vary wildly by state, the authors wrote.
Though momentum has been building in recent years to improve access to dental hygiene care in the U.S., more could be done. To increase direct access to care from dental hygienists, the authors recommended the following:
Revise state practice acts to authorize dental hygienists to practice to the full extent of their education and training.


Develop workforce models that culminate in graduation from an accredited institution, professional licensing, and direct access to preventive oral care and therapy.


Conduct studies aimed at documenting outcomes around greater access to dental hygiene care.
"While there has been good progress over the course of the past two decades, much remains to be done to truly achieve the goal of patients across the US having direct access to dental hygiene preventive/therapeutic care," Gadbury-Amyot and colleagues wrote.