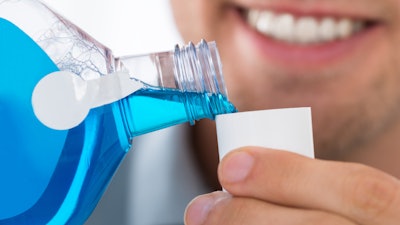 Mouthwash may offer little value for patients with a low risk of caries and good periodontal health. Its use may lead to other health problems, according to a review published on October 19 in the International Dental Journal.
Emerging studies have shown that frequent use of antimicrobial mouthwashes may cause oral dysbiosis in healthy people, possibly affecting systemic health, the authors wrote.
"Thus, dental practitioners need to keep abreast of the evidence base on the current, and the emerging, over-the-counter mouthwashes, and pay heed to the consensus views emanating from systematic reviews, as well as international guidelines on mouthwashes," wrote the authors, led by Dr. Purnima Kumar of the department of periodontics and oral medicine at the University of Michigan School of Dentistry in Ann Arbor.
Currently, most guidelines suggest using fluoride mouthwashes for managing dental caries and chlorhexidine for managing periodontal diseases. However, there are gaps in research that support these recommendations. Recommending antimicrobial mouthwash, therefore, remains challenging.
What's recommended
Based on guidelines around the globe and reviewing the current best studies, the authors made the following final recommendations:
Mouthwashes can reduce supragingival plaque and gingivitis when used adjunctively along with self-care and professional oral hygiene care.


Advise patients who ask about the best antimicrobial mouthwash for gum disease that evidence supports the use of products that contain essential oils and chlorohexidine.


Support the appropriate use of fluoride mouthwashes for adjunctive self-care at times other than following toothbrushing.


Advise patients who ask about mouthwashes for bad breath and tooth whitening that there is a current lack of in vivo clinical trials to inform a decision.


Due to the potential risks of allergic reaction, oral dysbiosis -- which may also be associated with compromised systemic health and antimicrobial resistance -- don't strongly advocate the use of mouthwash for patients who have good gum dental health or a low risk of developing caries.


Although there is no evidence of harmful effects associated with the use of natural or alternative rinses available in health food stores, don't advocate their use because more studies on their effectiveness and adverse effects are needed.
Additionally, mouthwashes should be used for up to two to four weeks to manage mild to moderate periodontal disease and only as a companion to oral hygiene and professional plaque removal in specific cases, they wrote.
"Be aware that the clinical benefits of this approach may be minimal and there is a dearth of studies supporting this approach, the authors wrote.
More clinical trials
Furthermore, more empirical research, specifically in vivo research derived through clinical trials, on mouthwashes is needed, they wrote.
Since evidence is still emerging on the effects of mouthwashes on oral and systemic diseases, especially those other than chlorhexidine, it is hoped that the review helps dental health teams "make a more informed decision on how they advise patients on the use of mouthwashes for day-to-day management of caries, plaque, gingivitis, and periodontal disease," Kumar and colleagues wrote.