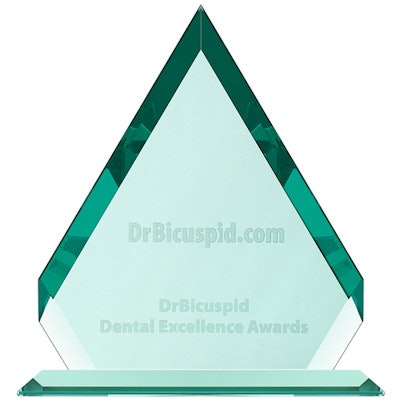 DrBicuspid.com is pleased to announce the winners of the 2018 Dental Excellence Awards, honoring the best new products and services in dentistry.
Voted on exclusively by DrBicuspid.com readers, the awards showcase those products and services that dentists and dental team members have chosen to provide better patient care and greater practice efficiency. Nominees in the 11 categories were introduced to the U.S. market between October 1, 2017, and September 26, 2018.
Awards will be handed out at the Chicago Dental Society Midwinter Meeting in February 2019. Follow our Facebook, Instagram, and Twitter feeds for more on the Dental Excellence Awards presentations.
Listed below are the winners of the 2018 Dental Excellence Awards:
Best New CAD/CAM Product
Dentsply Sirona Hub data storage unit
Dentsply Sirona
Best New Consumer Product
Waterpik Whitening Water Flosser
Water Pik
Best New Dental Equipment Product
SiroLaser Advance Plus diode laser
Dentsply Sirona
Best New Dental Instrument
PremierAir Probex probe
Premier Dental
Best New Diagnostic/Imaging Device
iTero Element 2 intraoral scanner
Align Technology
Best New Endodontic Product
GuttaCore obturators
Dentsply Sirona Endodontics
Best New Infection Control Product
GreenLight Dental Compliance Center
Hu-Friedy
Best New Preventive/Hygienist Product
Air-Flow Plus powder
Hu-Friedy
Best New Restorative Product
SonicFill 3 SingleFill composite system
Kerr Dental
Best New/Updated Software/Service
Eaglesoft 20 software
Patterson Dental
Best New Toothpaste
Crest Gum & Enamel Repair toothpaste
Procter & Gamble
The Dental Excellence Awards are selected by the readers of DrBicuspid.com. No fee or other consideration was paid for inclusion in the voting process or for winning.