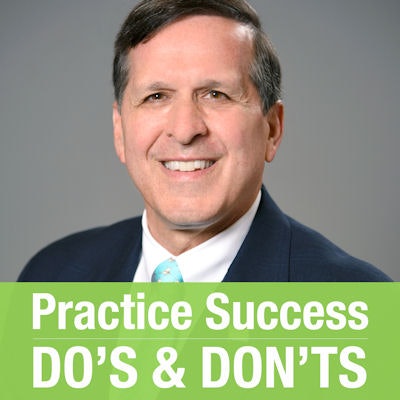 It can be easy to get discouraged during these times. Every day we hear about sickness and, even worse, death. But you must remember that we will get through this. Be sure to take care of yourself physically and emotionally so that you'll be ready to restart your practice when the world gets back to the next normal.

Develop a daily excise routine. Just because you can't get to the gym doesn't mean you can't exercise. And just because you've never exercised doesn't mean you can't start now (as long as your physician agrees). In fact, it's the perfect time. There are hundreds of online workouts that can be done with or without equipment. Yoga, cardio, weight training -- whatever suits you. It will be important for both your mental and physical health. Just be sure to start out slowly.

Don't forget to turn the news off. You need to be informed but not 24/7. While it can be easy to binge on cable news all day, it's not healthy. Get a half hour or hour of news each day and be done with it. Get some work done, connect with a friend or family member, or go for a walk. If you must watch TV, find a good movie or show.
Roger P. Levin, DDS, is the CEO of Levin Group, a leading dental management consulting firm, and one of the most sought-after speakers in dentistry. Dr. Levin has authored 65 books and more than 4,000 articles on dental practice management and marketing. You can sign up for the Levin Group Tip of the Day.
The comments and observations expressed herein do not necessarily reflect the opinions of DrBicuspid.com, nor should they be construed as an endorsement or admonishment of any particular idea, vendor, or organization.