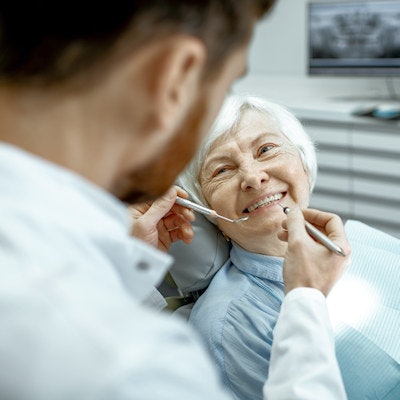 A provision that includes Medicare coverage of dental benefits was part of a $3.5 trillion budget passed by the U.S. House of Representatives on August 24. In addition to expanding Medicare to cover dental benefits, the proposal would lower the current eligibility age of 65.
The budget package passed along party lines by a vote of 220-212 and is a Democratic wish list that includes substantial investments in climate change, education, and healthcare, among other areas. The bill now goes into reconciliation, a special fast-track parliamentary procedure set up to expedite the passage of certain budgetary legislation through Congress.
Medicare has not covered routine dental care since its enactment in 1965. According to the Kaiser Family Foundation, nearly half of Medicare beneficiaries (47%), or 24 million people, do not have dental coverage, as of 2019. Almost half of all Medicare beneficiaries did not have a dental visit in 2018 (47%), with higher rates among those who are Black (68%) or Hispanic (61%), have low incomes (73%), or who are in fair or poor health (63%), as of 2018.
A YouGov survey conducted in July found that 8 in 10 voters support adding dental coverage to Medicare.
How much will it cost for Medicare to cover dental benefits?
The Medicare dental benefit provision included in the U.S. Senate's approved budget resolution would likely cover all Medicare beneficiaries, be included in Medicare Part B, and cost an estimated $238 billion over 10 years, according to ADA News.
The Kaiser Family Foundation report cited above noted that average out-of-pocket spending on dental services among Medicare beneficiaries who had any dental service was $874 in 2018. In addition, 20% of Medicare beneficiaries who used dental services spent more than $1,000 out of pocket on dental care.
Responses from advocacy organizations
On the same day the budget passed, ADA News reported that its namesake organization is urging dentists nationwide to include their voices in the process by directly contacting their members of Congress. As lawmakers debate what will be included in the reconciliation bill, the ADA believes now is the time for "Congress to hear from dentists on how to design a new dental benefit in Medicare and how it could best work for dentists and low-income seniors."
Families USA, a Washington, DC-based advocacy group, is applauding passage of the budget resolution as a bold effort to lower healthcare costs.
"Now that the House of Representatives has joined the U.S. Senate in passing the FY22 budget resolution, we are on track to implement landmark legislation that would significantly lower health care costs. ... Congress needs to seize this moment by developing and enacting big and bold legislation that ensures that our wealth does not determine our health," said Jen Taylor, Families USA's senior director of federal relations, in a statement.
What next?
During reconciliation in the House, certain committees draft recommendations for spending and revenue changes. Those are submitted to the Budget Committee, where the separate measures are packaged and reported to the floor, where amendments are recommended. In the Senate, an expedited version of the same process applies.
The advantage of the reconciliation process is that it bypasses the 60-vote filibuster-proof majority in favor of a simple majority in the Senate. Because the Senate is split 50-50, all 50 Democrats and Independents, as well as Vice President Kamala Harris would need to vote "yes" to pass the reconciliation bill.
The reconciliation package, which committees have a September 15 deadline to assemble, is expected to be ready for a vote by the end of September 2021.