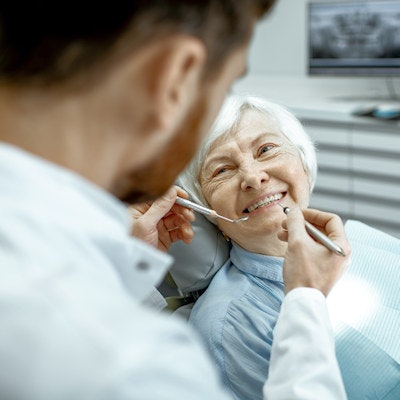 The senior years represent a time in our lives when income is generally low and dental needs may be greater than in years past. It is important to understand (and hardly surprising) that research has shown a relationship between the bacteria and inflammation of poor oral health and diabetes, cardiovascular disease, and pneumonia -- all diseases that disproportionately affect older folks. Furthermore, oral cancer, while preventable or curable when detected early, usually during a routine dental examination, disproportionately affects people older than 60 years.
Adding a Medicare dental benefit is an important step that will significantly increase the number of seniors seeking dental care. But an important question remains: Who will provide care to this new influx of patients? Solving the affordability problem, as a new benefit will do, does not by itself ensure that beneficiaries will receive the care they need.
Research has long shown that achieving improved access to care requires an adequate supply of healthcare providers in locations available to patients. An innovative oral health provider, called a dental therapist, can play an important role in ensuring that a new benefit will meet its goals.
Why dental therapists?
Dental therapists are skilled dental professionals, similar to nurse practitioners or physician assistants in medicine. They are authorized to practice in all or part of 13 states, and more than a dozen other states are considering legislation to authorize their practice.
Dental therapists work as part of a dental team, alongside dental hygienists and dental assistants, under the supervision of a dentist to provide a limited set of preventive and routine restorative procedures, such as cleanings, fillings, and simple extractions. They work in a variety of settings but are trained to extend care to underserved populations, including those in rural and tribal communities, nursing homes, long-term care facilities, veterans' facilities, and federally qualified health centers.
As Medicare has seen over the years, access to healthcare services improved when midlevel providers were added as eligible providers. For the new benefit to be most effective, it is necessary for dental therapists to be recognized providers and their services to be reimbursed in both public and private practice settings.
The data show that dental therapists could greatly benefit Medicare enrollees in the states where they are authorized to practice. Research shows that patients who go to practices employing dental therapists experience reductions in travel and wait times, especially in rural areas. Dental clinics also report that hiring dental therapists increases dental team productivity and improves patient satisfaction.
Dental therapists also command lower salaries than dentists, so incorporating them into the team can help dentists provide more cost-effective care. The savings from the lower costs of employing dental therapists make it economical for both public and private dental practices to expand capacity and increase access to publicly insured individuals as well as underserved communities.
Expanding Medicare can improve oral health and reduce health disparities among older Americans. Dental therapists, as recognized and billable providers, can help the dental delivery system reach these outcomes.
Dr. Frank Catalanotto is currently a professor in the department of community dentistry and behavioral sciences at the University of Florida. He is also a founding member and part of the leadership teams of the National Coalition of Dentists for Health Equity and Floridians for Dental Access. The views he expresses are his own and do not reflect the views of any organization he is associated with.
The comments and observations expressed herein do not necessarily reflect the opinions of DrBicuspid.com, nor should they be construed as an endorsement or admonishment of any particular idea, vendor, or organization.