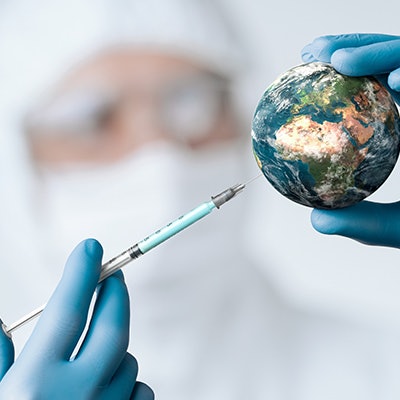 Many practicing dentists and dental students throughout the world remain reluctant to receive vaccinations for COVID-19, according to a perspective published online January 17 in the Journal of Dental Sciences.
Professional dentistry and policymakers must address the concerns of dental care professionals (DCPs), including potential side effects of the vaccines and the pace of their development, to prevent further spread of COVID-19, the authors wrote.
"These unique circumstances pose a high risk for COVID-19 infection among DCPs and their clients," wrote the group, led by co-first authors Sabrina Chowdhury and Elizabeth Bustos from New Mexico State University in Las Cruces.
In 2021, healthcare workers were deemed priority groups for COVID-19 vaccination. Despite the prioritization, some healthcare workers, including those in dentistry, have been reluctant to get vaccinated.
The researchers could not find global trends of COVID-19 vaccination preferences among dental care professionals. Therefore, they acquired empirical evidence on COVID-19 vaccination refusal among practicing dentists and dentistry students, they wrote.
Using a scoping review approach, they selected 17 studies published in English between March 2020 and December 2021. The studies included 2,983 practicing dentists from 11 countries, including the U.S. and U.K., and 7,805 dental students from 23 countries, including the U.S., and quantified COVID-19 vaccine refusal rates among participants. Using random-effects modeling, the researchers determined pooled prevalence rates for vaccine refusal.
The overall rate of COVID-19 vaccination refusal among practicing dentists worldwide was 19%, and it was 24.9% among dental students, the authors wrote.
In most of the studies, dental professionals refused the vaccine due to concerns about safety, efficacy, side effects, or the quick development of the vaccines, they noted. Also, a lack of trust in pharmaceutical companies, government, experts, healthcare organizations, or COVID-19 vaccines/infection-related information was cited as a primary reason for not wanting to be vaccinated.
The review had limitations, according to the authors, such as the data only including dentists and students. Other dental team members such as dental assistants were not included in the review because the researchers assumed these professionals may have lower training and/or knowledge than dentists, which is a predictor of vaccination.
Therefore, the actual rates of vaccine refusal could be higher within the dental workforce, and more studies are needed to better understand vaccine preferences among dental support staff, Chowdhury, Bustos, and colleagues added.
Leaders need to be proactive because many dentists have practices in places where policies such as vaccine mandates cannot always be enforced, patients are not always screened for COVID-19 or vaccination status, and other such factors, they wrote.
"Policymakers, professional organizations, and healthcare leaders need to act urgently and decisively to address these issues in the field of dental health care," the group concluded.