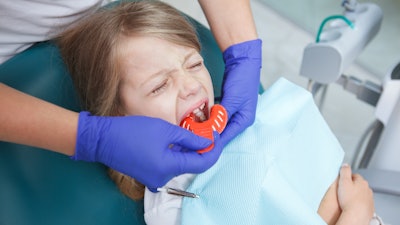 Children with a sensitive gag reflex during dental treatment may be just like their mothers. Among moms who gagged at the dentist, about 72% of their children did the same, according to a study published on February 16 in the Journal of Oral Rehabilitation.
In addition to the mother's propensity for gagging, past negative dental treatments and higher levels of dental fear were risk factors for children having a delicate gag reflex, the authors wrote.
"Since most of the influencing factors are associated with dental anxiety, dentists can both reduce anxiety and prevent the formation of [a] iatrogenic gag reflex with appropriate behavioral management," wrote the authors, led by Dr. Burcu Gucyetmez Topal of the department of pediatric dentistry at Afyonkarahisar Health Sciences University in Turkey.
To explore the prevalence and influencing factors of a sensitive gag reflex in children between the ages of 7 to 14 in the dental setting, the authors conducted a cross-sectional study of 320 children and their mothers. Their mothers completed forms with information, including income and the past medical and dental experiences of their children.
The Dental Subscale of Children's Fear Survey Schedule was used to evaluate children's fear levels while the Modified Dental Anxiety Scale was used to measure mothers' anxiety levels. A gagging problem assessment questionnaire was used to assess the kids and their mothers, according to the study.
The prevalence of a gag reflex among children was approximately 34% while it was about 20% among mothers. The link between the children and mothers gagging was statistically significant (χ2 = 53.121, p < 0.001). Furthermore, the risk of a child gagging increased 6.83 times (p < 0.001) when their mother gagged, the authors wrote.
Additionally, children with higher dental fear scores were at an increased risk of gagging (odds ratio [OR] = 1.52, p = 0.023), as well as children who received dental treatment at public hospitals as opposed to private dental offices (OR = 10.990, p < 0.001), they wrote.
The study had several limitations, including that whether the children's fathers or other family members had a propensity for gagging in a dental setting was not known. Only mothers were included in the study, as they were thought to be more closely linked to childcare. Therefore, more studies are needed to reach more definitive conclusions on these results, the authors wrote.
Additionally, longitudinal studies should be conducted in the future to investigate the causal factors of a gag reflex in children.
"The gagging of the mother can be explained because neutral stimuli are closely related to the gag reflex and the results of studies reporting that gagging can occur with conditioning by different mechanisms," Topal and colleagues wrote.