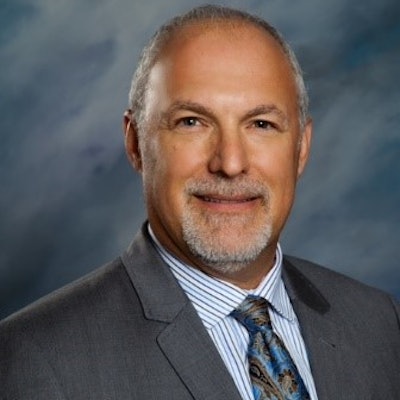 Life was going well for Dr. Martyn Green. He had his own practice in Beverly Hills, CA, a wife, two kids, and two dogs. He competed in triathlons. "One couldn't ask for more," Green recalls. Then one day, after 18 years of practicing as a periodontist, everything changed. He started dropping instruments. The last thing he imagined was a stroke, but that's exactly what happened.
Turns out Green was born with a cavernous angioma in his brain. He spent one month in the hospital and another three rehabilitating as an outpatient. Even though brain injuries have lasting effects, Green was able to practice another seven years. But by 2012, he developed seizures. Medications to control the seizures were effective; however, they affected his hand/eye coordination. Dr. Green had no choice but to sell his practice. (Luckily he had disability insurance.)
After going on disability, he successfully pivoted to academia, with appointments in the periodontal graduate program at Loma Linda, the University of Tennessee, and Tufts. While at Loma Linda, Green pursued a master's degree in health professions education with an emphasis on leadership.
For the last several years, Green has been employed at Delta Dental. "I've actually had three separate careers within dentistry," he said. In his role as the managing dental consultant for Delta Dental, Green works in quality assurance, grievance, and appeals. The department of insurance and the department of managed health care mandates a mechanism for quality oversight of in-network providers.
Much of the work centers around quality of care. Patients file grievances that are processed under an internal peer-review system that includes reviewing patient records and examining the patient if indicated. After evaluation, an opinion is rendered. "I have found that most complaints from patients are because of miscommunication or mistrust between the patient and the dentist," Green observed.
Besides patient complaints, Delta looks for patterns that are indicative of overbilling, overtreatment, and mistreatment. These cases are also investigated. Delta works closely with state boards by reporting providers who have been removed from its network. Delta also reviews state board decisions when reviewing provider credentials.
The other principal task involves appeals. Patients or providers can appeal any Delta decision, such as a denied claim. Green notes, "Many claim denials are due to lack of submitted accurate information, such as diagnostic radiographs, charting, and progress notes."
In a typical day, Green and his team of 15 full-time consultants evaluate cases with radiographs, charting, progress notes, narratives, and claim history. The work is conducted remotely, using state of the art computer software. Clinical evaluations and discussions occur throughout the day.
"The best part is collaborating with colleagues," Green says. The background of the internal team is varied in terms of age, gender, specialties, and professional experiences. Some of the consultants have had an injury that precludes practicing dentistry, while others enjoy the freedom from the burdens and stress of running a private practice.
The diversity of the consultants allows for lively discussion and alternate points of view. The shared goal, though, is to be accurate, fair, and just.
There is also a team of part-time external field consultants who travel to different offices for random and periodic reviews. Prior to the visit, providers are sent a quality assessment checklist, including items like sterilization logs, emergency kits, supplemental oxygen availability, and patient charts. Each quarter the field consultants receive a list of offices, and they schedule their own visits.
Some consultants are retired or work part time. They all seem to enjoy the flexibility of the job while still keeping in touch with dentistry by evaluating dental care and patient safety in different office settings.
If you are interested in becoming a dental consultant, Green recommends that you get involved with service outside of your practice. Running study clubs helped him create a professional network.
Being a part of organized dentistry taught Green how to work with colleagues and lead committees. Taking courses in business, public health, and leadership expanded his knowledge base. Everything builds on itself and gives any dentist the opportunity to pivot careers while still being involved in dentistry. Becoming philosophical, Green says, "I think it is important that you have failsafe options in your life because you never know what may happen."
Interested in becoming a dental quality assurance consultant? You must take The California Association of Dental Plans certification course. Find out more at https://www.cadp.org/qarequirements.



CADP is California's only organization for Knox-Keene and Department of Insurance-licensed dental plans. The association was organized in 1985 to promote, through education and collective action, the mutual interests of the managed dental benefits industry.
Martyn Green is a diplomate of the American Board of Periodontology and a fellow of the American College of Dentistry. He received a Bachelor of Science from the University of California, Los Angeles; a Doctor of Dental Surgery degree from the University of Southern California; a certificate of periodontics from Boston University; and a Master of Science from Loma Linda University. Dr. Green has lectured nationally and internationally on periodontics and implant dentistry. He currently lives in Massachusetts and can be reached at Martyn33@aol.com.
Dr. Teresa Yang is the author of Nothing But The Tooth: An Insider's Guide to Dental Health. She has practiced and taught dentistry in the Los Angeles area for more than 30 years. Read her blog at www.teresayangdds.com.
The comments and observations expressed herein do not necessarily reflect the opinions of DrBicuspid.com, nor should they be construed as an endorsement or admonishment of any particular idea, vendor, or organization.