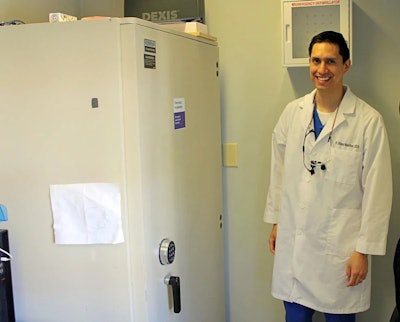 Image courtesy of the Times News.
A North Carolina dentist needs a safecracker to open two large safes in his new office, according to a story published on April 28 in the Times News of Burlington, NC.
Dr. R. Uilises Melchor moved his practice, Maple Hill Dentistry, into the former Sun Trust Bank building and found two locked safes. Now he's looking for help to break them open so they can be moved.
"We have … two gigantic safes that are locked, and we can't move them or unlock them," he said in the Times News report. "The safes take up a lot of space. We could actually use the one in the front for dropping off packages. It was the bank's night-time drop box and would stop porch-pirates."
Melchor has contacted the banks that previously used the building, the lock's manufacturer, and posted his dilemma on Facebook. So far, none of these efforts have solved the problem. One Facebook response suggested that Melchor get in touch with the prison board and "borrow a bank robber for a day," he said.