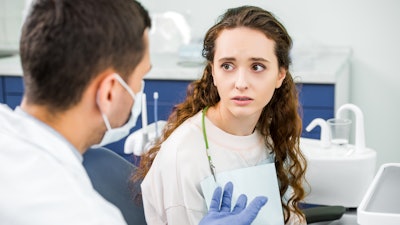 Dental care for the average U.S. adult can cost $51,000 for single coverage, while it can cost $95,000-plus for couple and family coverage over a lifetime. These estimates exclude costs some may pay for care, like implants, according to a new study.
Additionally, not only did many patients -- with and without dental insurance -- report that they found treatment unaffordable but that costs have kept them from visiting the dentist. Due to costs, 9 out of 10 adults reported that they would refrain from seeking general dental care and 4 out of 5 would do the same for emergency dental care, according to the Synchrony Dental "Lifetime of Care" study.
"Dental health is essential to overall health, and rising out of pocket costs are preventing patients from accessing the care they want and need," Bete Johnson, senior vice president and general manager, dental, Synchrony, said in a press release from the company.
In January 2023, 1,335 insured and uninsured people in the U.S. between the ages of 20 and 79 participated in the study, which was done on the behalf of Synchrony's CareCredit. Also, interviews were conducted with 22 dentists and practice managers.
The study was done to give patients a better idea of what their out-of-pocket dental costs will be during their lives so they can plan for them, according to Synchrony. The findings showed that 58% of consumers reported that dental care was not affordable. That percentage rose to 75% for those without dental insurance. Furthermore, for the average person between the ages of 20 and 79, dental care can cost $51,000 for single coverage and up to $95,000-plus for couple and family coverage during a lifetime.
But this is just the beginning. Patients may spend tens of thousands of dollars per procedure, like dental implants, braces, or treatment for more complex needs, according to the study.
As a result of these costs, 92% of adults said they would consider delaying general dental care, and 83% reported they would do the same for emergency dental care. Additionally, 54% of respondents cited costs as the primary reason why they did not visit the dentist in the last year. Among the participants, 78% of those with dental insurance were more likely to visit the dentist compared to the 55% without insurance, according to the results.
Emergency ready?
Dental emergencies happen more often than expected, but adults believe they will never experience them.
About half of respondents reported at least one dental emergency in their lifetime and 13% reported one in the last year. Despite this, only 26% of respondents said they actively save for dental expenses. Among those who do, on average, only $648 is saved for the unexpected.
Moreover, 52% of adults reported that they would hold off on general dental care if the out-of-pocket cost reached $1,000, according to the results. Finally, nearly half of respondents who put off going to the dentist reported that delaying a recommended procedure caused additional dental issues, according to the survey.
"People should be able to access their routine dental care when they need and want it, just as they should with other aspects of their wellness," Johnson said.