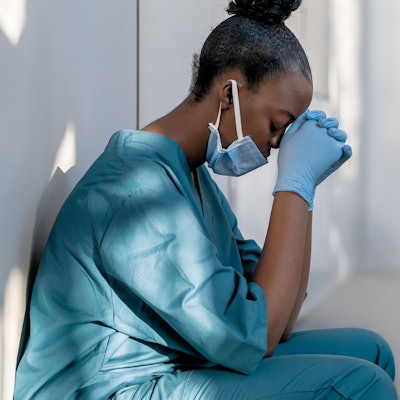 Researchers had noticed an increasing trend of dental professionals and dental students reporting burnout. So when the COVID-19 pandemic hit last year, it only exacerbated the phenomenon of burnout among dental professionals and other types of healthcare workers.
In an August 2020 survey of 4,000 dental professionals, the ADA Health Policy Institute found that anxiety, financial problems, and reduced quality of sleep were the most commonly reported symptoms associated with the pandemic. Moreover, one-quarter of respondents had increased their use of alcohol, cigarettes, or drugs since March.
Apart from the usual stresses of operating a dental practice, the pandemic has added another layer of tension to daily work -- extra tasks. Dentists and team members now have now to repeatedly don personal protective equipment, add additional time between patient appointments to assist with social distancing, manage air filtration throughout the office, and sanitize and turn over operatories quickly.
These extra tasks all contribute to rising stress on any given day, and stress is the foundation of burnout. In fact, the World Health Organization's International Classification of Diseases defines burnout as a "syndrome conceptualized as resulting from chronic workplace stress that has not been successfully managed."
Burnout in the dental office
In the dental office, burnout can result in poor performance, diminished office morale, the potential for an increase in errors, and staff turnover, according to Dr. Marc Cooper, president of MBC Consultants.
Cooper noted that dentists, himself included, are anxious and perfectionists, which may make the profession more prone to burnout. Such qualities can result in a quick temper, more anxiety or worries, and getting "catastrophic" more quickly, Cooper said.
"Their stress will show up in multiple ways," he added.
Furthermore, burnout is not the same as fatigue, noted Dr. Roger P. Levin, founder and CEO of the Levin Group dental practice management consultancy. While fatigue is a snapshot of a dental professional lacking energy or feeling tired on a given day, burnout is a result of chronic workplace stress that has not been effectively managed.
What's worse, burnout doesn't have a rapid resolution, Levin said.
"It does not come on quickly, and it does not go away quickly," he explained. "It can take many months to overcome once you have it."
Overcoming burnout
Because burnout can be overwhelming, the best way to avoid it in a practice is to prevent it, Levin said. One way to do that is by having wellness systems in place.
"The classic answer is what is recommended medically," Levin said. "That is, getting enough sleep, eating well, and exercising."
But if it's too late for prevention and you're already feeling the effects of burnout, there are still actions you can take. Concentrating on doing things that bring enjoyment is one way that individuals can rescue themselves from burnout, Levin noted.
"Focusing on things you will like and love to do helps to bring you back from burnout," he said.
Dr. Cathy Hung, owner and operator of Prospect Oral Surgery Center in Monroe Township, NJ, and a certified professional life coach, added that engaging in hobbies is a healthy step to stave off burnout as well as recover from it. One way she's done this is by joining online communities during the pandemic to discuss hobbies she loves.
In her online groups, Hung discusses lighthearted topics such as cooking and photography. Having a "safe space" for discussion about everyday life may be an avenue for talking about burnout, Hung said.
But getting to the root of burnout requires more than just hobbies, in Hung's view. She also advocates for a reset.
"Reset happens when you can dissect the issues and get to the bottom of things as to what is making you unhappy," Hung said. "What is causing burnout? Is it related to a financial issue? Is it related to an administrative issue? Is it related to patients?"
Similarly, Cooper advises his clients to engage in self-reflection, self-examination, or self-discovery. Doing so can help them identify precursors that may set off their stress on a day-to-day basis.
Helping team members with burnout
Sometimes it's not you who's burned out but someone on your team. If staff members at a dental practice are experiencing burnout, the dentist should aim to be there for them, Cooper noted.
"They need to be authentically empathetic," he said. "It can be very hard for a dentist to do that."
Stepping up to help a team member includes reassuring employees and promoting positivity, Hung added. It also means keeping an open line of communication.
"Avoid hearsay, rumors, and gossip," she said. "Make sure employees know that they are well supported and appreciated."
For its part, the ADA is recognizing burnout as something affecting its membership. As a starting point for dental professionals, the ADA offers an online self-assessment for dentists to determine if they are experiencing burnout.
The ADA is also developing dental well-being resources and webinars to promote mental wellness among its members. For instance, the ADA is partnering with NAMI Chicago and other experts to create resources addressing dentists' mental health needs using a grant from Crest and Oral-B.
Burnout at any age
One of the myths around burnout is that it only happens to individuals well into their careers. But that couldn't be further from the truth, Hung stressed.
"I've heard before that someone is too young to burn out," she said. "That is not true. It can happen at any time."
Indeed, students and trainees appear to be walking the path to becoming clinicians who are burned out from the get-go.
A study from the University of Washington School of Dentistry found 69% of dental trainees indicated the pandemic affected their mental health. A total of 22% of respondents said they had anxiety, 17% had symptoms of depression, and 29% had at least one symptom of burnout. In addition, 13% of respondents expressed an intention to leave the program.
To help prevent and combat burnout, dental schools may consider having a psychologist on retainer, suggested the study's lead investigator, Dr. Donald Chi, PhD, a professor of oral health sciences at the university. The psychologist could serve as a resource by offering a compassionate ear for dental trainees who are experiencing mental health challenges and want to discuss that in a safe environment.
And while the survey was conducted at a single site, Chi does not think the findings are limited to the experience of dental trainees at the University of Washington. Rather, they appear to reflect a broader trend.
"My guess is that this is happening across the U.S.," Chi said, attributing part of the problem to the culture of not asking for help. "It is endemic in dentistry. There is an idea that if you are struggling, it is a sign of weakness to ask for help."