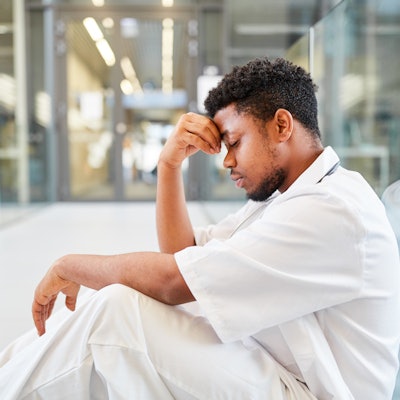 Burnout is a phenomenon that is common among healthcare providers, especially dentists, and the repercussions can be detrimental to the workplace. A new study published in the June edition of the Journal of Dentistry examined the work-related factors that contribute to burnout among dentists.
"The syndrome has negative repercussions for organisations, clinics, and companies, resulting in poor service to patients, increased absenteeism, clinical errors, and financial losses, as well as negative consequences for the individual in question that are very similar to the symptoms of depression, potentially even leading to suicide," wrote the authors, led by Cristina Gómez-Polo of Salamanca University in Spain (J Dent, June 2022, Vol. 121, 104143).
What factors make dentists more prone to burnout?
Burnout is characterized as an extreme negative response to chronic stress. Often originating in the work environment, burnout causes adverse repercussions to individuals, organizations, clinics, and companies.
The study aimed to assess which sociodemographic and work-related factors relate to burnout syndrome in dentists. Approximately 1,300 dentists in Spain took part in an online survey to quantify their level of burnout. The relationship between the work-related and sociodemographic factors were observed for each of the three dimensions of burnout: emotional exhaustion, depersonalization, and personal accomplishment.
Nearly 10% of dentists evaluated reported experiencing a high level of burnout. Within the population studied, environment, age, and working hours per week significantly affected the emotional exhaustion dental professionals experienced. The percentage of dentists with signs of burnout classified as emotional exhaustion was higher for the following groups:
Women
Those working in a rural setting
Nonowners of practices
Those who always or frequently work alone
Ownership of practice, years of experience, and number of working hours per week significantly impacted depersonalization. Working alone was found to create a high risk for suffering from a low sense of personal accomplishment.
"Burnout syndrome is more likely to affect young dentists who do not own a practice and work long hours each week," the study authors said.
How burnout syndrome develops
The World Health Organization has recognized burnout syndrome as a disease. Although there may be underlying personal causes, burnout is commonly associated with external factors specifically related to the workplace. Burnout has been commonly studied in professions that involve high levels of interaction with others.
Burnout increases in severity as it develops through three dimensions: emotional exhaustion, depersonalization, and low personal accomplishment. Emotional exhaustion is characterized by loss of energy, mental and physical exhaustion, fatigue, and lack of strength. Elements of stress related to care make dental professionals more prone to suffering from burnout syndrome. Work-related, physical, management, and personal variables all contribute to the susceptibility of dental professionals to burnout.
As it often occurs in the dental field, experiencing high levels of anxiety and fear and attending to a patient in pain leads to overloaded dentists. These pressures can make it difficult to deliver dental treatments.
The study authors signify the importance for further research. They urge other researchers to develop further studies on personal variables, work-related variables of the dental profession, and the availability of treatments for dentists to reduce pressure.
The researchers believe it is necessary to act on all three levels and to raise awareness about burnout among dentists. At an organizational level, "it is advisable to identify the adverse organisational or work-related variables that increase the probability of suffering burnout, in order to adjust or minimise them," the study authors concluded.