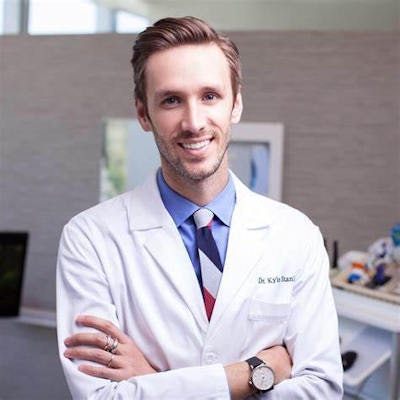 As dentists, we're used to being overachievers. Many of us have known from the time we were 18 or 19 that we wanted to pursue dentistry and have gone after it wholeheartedly, throwing ourselves first into college, then dental school, residency, internships, and, finally, the working world.
We often challenge ourselves further by launching our own practices, where we serve not only as doctors but also as practice administrators, accountants, and managers. Dentistry is a challenging field, and a rewarding one, and it's a good thing the profession attracts those with an entrepreneurial spirit who like to do it all, because we certainly do.
And then the pandemic hit.
In talking with colleagues, I know just how hard it hit for many. The late nights studying in dental school, the long working hours, the missed family gatherings -- many of us feel that our identity has become synonymous with our profession, and when that's in jeopardy, it can be a big blow.
A July 2020 ADA report showed that 92% of respondents agreed COVID-19 had impacted their mental health. When asked to describe their mental state, respondents most often used words like worried, overwhelmed, stressed, anxious, concerned, hopeless, and defeated.
But this state of affairs isn't new. While stigma surrounding mental health makes it difficult to say for sure, a U.S. Centers for Disease Control and Prevention National Occupational Mortality Surveillance report for 1999-2010 showed that dentists were 2.5 times as likely to die by suicide compared to members of the general population. A 1996 study reported that being a dentist increased one's risk of suicide by a whopping 564%.
It's time we start talking about this issue more openly and often. I've dedicated my career as an educator and researcher to finding strategies to prevent burnout and encouraging colleagues to support one another. These are some of the things that I talk about with my students.
Finding support and community
The COVID-19 pandemic has been a wake-up call for many of us. Even though I've been speaking on the topic of mental health in dentistry since 2018, I experienced an identity crisis I know that others went through in March 2020. My office closed for six weeks, and my reaction was "What do I do now?"
The pandemic helped me realize dentistry is what I do, not who I am, and adopting this philosophy changed the game for me. The first step toward reducing stress and anxiety is realizing we can love and be passionate about our jobs, but we also have a life outside of our jobs. It's certainly not easy, and it's still something I work on every day, but it's a change in mindset that can make the difficult times easier to handle and the good times even better.
Another strategy that I share with my students is to find a colleague whom you trust and can talk to and who will understand what you're going through. As a speaker, I often ask my students if they've known someone professionally who died by suicide, and no matter where I'm speaking, about 70% of the audience raises their hand. That moment, when audience members look around and realize just how prevalent suicide is, is when it really sinks in -- we are not alone.
My course, Lightside, includes a private community where dental professionals can interact with one another and discuss what they're going through. But it doesn't have to be such a formal setting -- finding someone from your alma mater, at a conference, or through a Facebook group to talk to can also help. Chances are, they're experiencing the same thing you are.
Mitigating patient fear and anxiety is another strategy that can do a great deal to alleviate practitioner burnout. Research shows about 1 in 3 people fear going to the dentist, and around 1 in 10 suffer from extreme dental fear. If you think about it, that's a difficult environment to work in every day. At my practice, we have massage chairs, heating blankets, popular TV shows playing on the ceiling, and advanced anesthesia. Implementing these types of strategies is a lot easier than it used to be, and reducing patient anxiety can help create a more positive, productive work environment for you and your staff.
Technology can also help make our lives easier in many ways, and artificial intelligence (AI) is something I believe has great potential. Compared to other health professionals, dentists do it all: Not only do we see patients, but we're often accountants, surgeons, radiographers, and entrepreneurs.
AI-enabled technology can help identify areas to improve operational efficiency, such as automating appointment reminders and patient recall or identifying hygienists who could benefit from additional training. Having a place to turn for insight can help alleviate the stress around practice management and revenue -- stress that's often compounded by school and business loan debt we take on to go into practice.
The liability we shoulder as doctors often adds to our financial stressors. More precise imaging systems and instruments, robotically guided surgical systems, and diagnostic AI solutions can have big payoffs. We're human, and we're busy, and we can make mistakes. Technology can help mitigate those mistakes and alleviate the pressure we feel to be perfect.
Ultimately, even if liability wasn't a concern, we would still aim to perform at the highest standards because, as doctors, our patients' satisfaction is hugely important to us. No matter how hard we try, however, sometimes a patient just isn't a fit for our practice. That's OK.
At my practice, we realized that some patients were causing too much stress for us. They didn't want any treatment or x-rays, they were disrespectful to staff, they showed up late, or they wanted discounts on everything. The first time dismissing a patient is hard. Afterward, however, our whole practice was happier, and we realized that positive office morale was more important than the extra production.
The path forward
Talking about topics like burnout is hard, but it's worth it. My advice to dentists is to remember that you are not alone. No matter how dark things may seem, they will get better, and there are strategies you can use to ensure that happens. There's a whole community of us out there who are going through the same things -- we just have to support one another.
Dr. Kyle Stanley is a leading advocate for mental health in dentistry. He maintains a private dental practice in Beverly Hills, CA, and is the chief clinical officer at Pearl, a company that offers practice-oriented artificial intelligence solutions for patients, practitioners, and insurers.
The comments and observations expressed herein do not necessarily reflect the opinions of DrBicuspid.com, nor should they be construed as an endorsement or admonishment of any particular idea, vendor, or organization.