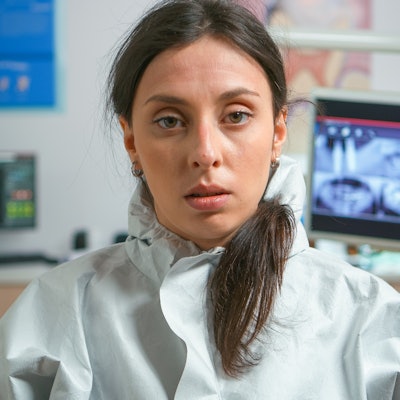 From reimbursement concerns to challenging patients, dental professionals face a multitude of stressors in their daily work. When these stressors are accompanied by perfectionism and prioritizing patients above all else, it can lead to burnout and mental health disorders.
A commentary published in the August edition of the Journal of the American Dental Association explains why dental professionals are more prone to mental health disorders and how dental professionals can improve identifying and preventing mental health disorders -- a timely topic, since studies indicate that the COVID-19 pandemic has exacerbated mental health disorders.
"Given the severe impacts of mental health disorders on dental health care workers and the potential for related maladaptive behaviors, dental healthcare workers must evaluate the impact of such disorders on the dental community and patients," wrote the authors, led by Dr. Maria Geisinger of the University of Alabama at Birmingham.
What dental professionals stress about
Dental professionals experience common societal stressors and occupation-specific stressors. Both have been exacerbated by the ongoing pandemic. Chronic stress can erode one's well-being and lead to feelings of distress, eventually leading to burnout.
Stresses in the dental office include financial pressures, booked schedules, paperwork demands, practice management issues, reimbursement concerns, challenging patients, and physical demands imminent to oral care delivery. These pressures take a heavy toll on dental professionals, leaving them more prone to distress, burnout, and mental health disorders.
Recognizing mental health disorders in the office is imperative given the prevalence and potential impact on dental healthcare professionals. The commentary's authors encourage dental practices to use tools that allow for in-office anxiety and depression screenings. This information may be beneficial for both patients and providers, especially in light of study findings linking poor oral health and mental illness.
The authors also urge dental professionals to look inward and identify potential signs and symptoms of mental health disorders as well as to promote a healthy work environment and reduce the impact of stress within their profession.
Long-term stress, if it is left untreated, may hinder one's personal and professional functioning. Long-term stress can also negatively impact the immune, cardiovascular, digestive, attentional, and reproductive systems. Anxiety and depressive disorders may develop.
6 steps for dental professionals
Oral healthcare providers are committed to improving the health of patients and communities. As such, it is crucial that they are aware of the prevalence and risk factors of mental health disorders and their potential manifestations.
A provider's mental health affects their ability to care for patients. The authors of the commentary urge dental healthcare workers to create professional environments that invite open communication about mental health.
The authors proposed the following six steps to improve the identification and prevention of mental health disorders among dental professionals and to reduce stigmas surrounding seeking mental healthcare:
Training programs should include instruction on how to recognize the signs and symptoms of stress, distress, and burnout.
There should be a greater emphasis on developing and monitoring self-care plans for dental professionals.
Dental professionals should seek continuing education offerings on self-care and mental health.
Providers should encourage peer support programs that discuss self-care and mental healthcare.
Clinicians should use information that is accessible through local, state, and national dental organizations to connect with mental healthcare providers.
Systematic efforts should be made to elucidate treatment barriers among dental professionals.
"The current environment should serve as a call to action to improve support for mental health among all members of the dental team," Geisinger and colleagues concluded.