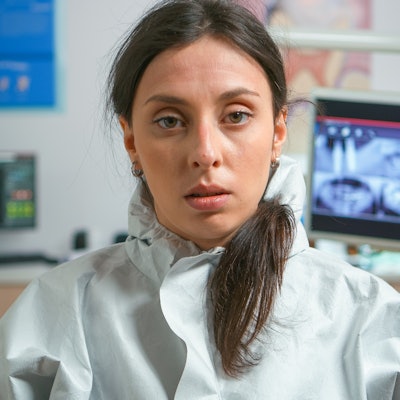 Before the pandemic, nearly 1 in 7 dentists experienced burnout, but that number has increased due to stressors related to the COVID-19 pandemic, according to a research report published by the CareQuest Institute for Oral Health.
"Frequent sources of stress for dental providers include maintaining an on-time schedule, treating 'challenging' (i.e., aggressive or demanding) patients, managing staff relations, worrying about potential errors and litigation, and dealing with physical pain, particularly back and neck pain," wrote the report's authors.
Since the onset of the COVID-19 pandemic, studies have indicated an increase in stress and anxiety among dental providers exacerbated by the fear of COVID-19 transmission in the dental office, work-related changes due to the pandemic, and financial pressures related to public health restrictions.
The CareQuest Institute for Oral Health surveyed 377 dental providers about their perceptions of the impact of COVID-19 on the dental profession. Providers reported increases in burnout during the beginning of the pandemic.
A total of 71% of oral health providers reported an increase in feelings of burnout since the start of the COVID-19 pandemic, and 58% reported feelings of burnout due to work a few times per week or more.
Not all dental providers experienced burnout equally, with differences by gender, age, race, and ethnicity emerging. Two-thirds (66%) of female providers reported feelings of burnout every day, once per week, or a few times per week compared to half (50%) of male providers. Younger providers, ages 18 to 34, experienced more feelings of burnout (71%), while older providers, 55 years and older, were least likely to report frequent feelings of burnout (46%).
The survey findings also indicate differences in burnout by race and ethnic background and location. Providers who identified as Hispanic reported greater proportions of burnout symptoms (73%) compared to those who identified as white (63%), Asian/American Indian/Native Hawaiian/Pacific Islander (55%), or Black (35%). Black providers were the only providers who were more likely to experience burnout infrequently.
Providers practicing in rural locations experienced frequent burnout at higher rates (72%) compared to providers practicing in suburban or urban areas (56%). Providers who had been practicing for more than 21 years experienced less frequent burnout (48%) compared to those with 10 years or less of practice experience (65%).
To address the growing crisis of burnout among dentists, the ADA has provided a set of resources focused on health and wellness. Each of the 50 U.S. states has its own well-being program designed specifically for dental providers.