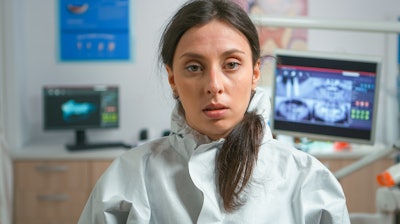 Nearly 80% of oral health providers reported burnout during the COVID-19 pandemic, according to survey findings from the Oral Health Workforce Research Center at the University at Albany in New York.
The report, published on October 12, also stated that the rates of burnout among oral healthcare workers was comparable to burnout rates being reported by primary care providers and mental and behavioral health providers.
Previous research has shown that the pandemic exacerbated issues of burnout for health workers, especially those providing patient care. For the oral health workforce, the chance of COVID-19 infection was considered high due to potential contact with respiratory aerosols transmitted during dental procedures.
The University of Albany team wanted to explore the prevalence and effects of burnout and stress among the oral health workforce in safety-net dental organizations during the pandemic. It worked with the Health Choice Network to analyze its 2021 online survey of clinicians working in 25 community health centers across the U.S.
According to the report, oral health providers reported high levels of burnout at 79.3%. This figure is comparable to the 80.1% of surveyed primary care providers and 76.2% of mental and behavioral health providers who reported burnout.
In addition, the researchers conducted key-informant interviews with individuals in various positions at safety-net dental organizations throughout the U.S. They found that at the organizational level, reported stressors were mainly related to obtaining sufficient personal protective equipment, changing clinical protocols, reassigning clinicians to nontraditional roles, and workforce shortages.
The most common individual-level stressors were related to childcare, primarily for single parents. Women were disproportionately impacted by stressors, the team added. The survey findings indicated that the lack of childcare was among the main reasons dental assistants and hygienists chose to leave their jobs.
Read the full report.