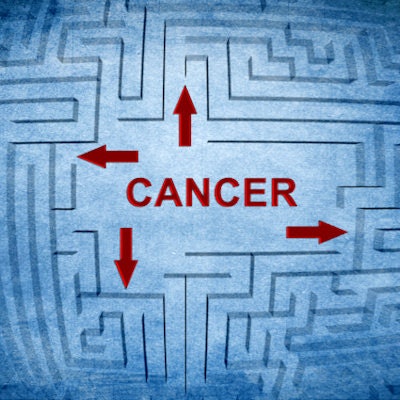 Clustered papular growths on a woman's lips led to a diagnosis of a rare, genetic condition that's associated with an increased risk of breast cancer and other cancer types, according to a case report published in the April 9 issue of the New England Journal of Medicine.
A several-month history of multiple tender breast lumps and clustered bumps on the lips led doctors to diagnose a 32-year-old woman with Cowden syndrome. The disease is an autosomal dominant PTEN hamartoma syndrome that is linked with an increased risk of breast, thyroid, endometrial, and other cancers. The growth on the woman's lips ended up being a key sign of the syndrome, according to the authors.
"Oral mucosal papillomas are commonly associated skin lesions," wrote the authors, led by Sébastien Molière, MD, of Hôpital de Hautepierre in Strasbourg, France (NEJM, Vol. 382:15, p. e29).
Nearly everyone diagnosed with Cowden syndrome develops hamartomas, which are tumor-like growths. Hamartomas are most often found on the skin and mucous membranes, such as the lining of the mouth, but they can also occur on other body parts. Typically, hamartomas become apparent by the time people are in their late-20s, and these individuals often develop cancers at younger ages, like their 30s or 40s.
Knowing that lip bumps are a strong indicator of the syndrome can help clinicians get patients diagnosed.
In this case, a 32-year-old woman visited an outpatient breast clinic after experiencing multiple tender breast lumps for several months. The woman had no significant personal or family medical history. During her physical examination, clinicians noticed clustered papular growths on her lips, which she said were present since childhood, the authors wrote.
Clinicians also found multiple smooth, firm, and mobile lumps in both breasts and a 2-cm painless, indurated mass in the upper medial quadrant of her right breast. Genetic testing was completed because Cowden syndrome was suspected. It confirmed the diagnosis of the syndrome, according to the authors.
Mammography showed dense breasts with multiple cysts, and magnetic resonance imaging confirmed a mass in the right breast and multiple smaller lesions consistent with papillomas. Biopsy results were consistent with estrogen receptor-positive invasive ductal carcinoma. It also showed several intraductal papillomas, according to the report.
The woman underwent a modified radical mastectomy of her right breast and prophylactic mastectomy of her left breast.
Knowing the signs and symptoms of Cowden syndrome can lead to early treatments and better patient outcomes. Treatment for the syndrome includes genetic counseling and early cancer screenings.
"Cancer surveillance is an important focus of treatment for patients with the Cowden syndrome," the authors wrote.