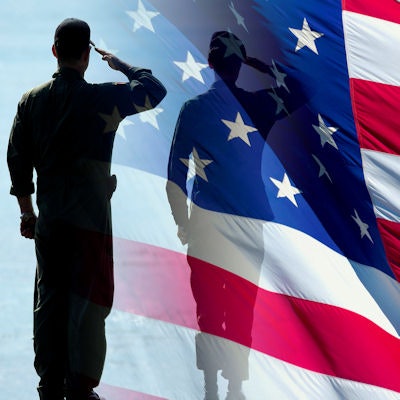 With today being Veterans Day in the U.S., I want to start this article by thanking all the men and women (including those reading this article) who have served in the various branches of the country's military through the years. Their service and sacrifice are appreciated more than they know or we can express.
My family's roots in the military run deep. Even though I never served, I have always had a special admiration for my grandfather's service in World War II in the Asian conflict and my dad's service in Vietnam. Because of that background, it's always been easy for me to walk up to complete strangers who have something signifying their status as a veteran and to thank them for their service. I can't tell you the number of times a smile has crossed the face of the veteran when I spoke those words.
If there's one thing you should know about my dad, it's that there are two things in life guaranteed to make him smile. The first is his granddaughter -- any time she is around or even mentioned in conversation. The second is when someone, noticing his Vietnam Veteran hat, thanks him for his service. It's a small gesture in the grand scheme of our busy days, but I know firsthand the difference it makes for my dad and so many others like him.
On this Veterans Day, I'd like to ask you how you are recognizing the men and women who come into your dental practice and have served (or currently serve) in the military. Do you know who they are? Do you have a note in their patient chart ensuring that "thank you for your service" is uttered when they sit in your chair? I have worked with dental practices in the past that have as part of their patient questionnaire a question asking whether the patient served in the military and in what branch. These practices ensure a "thank you" is said any time these patients come in for an appointment.
I understand not every practice does this, but I personally hope that number dwindles as we move into 2021. If you're looking for a way to set your practice apart from others and grow closer to certain segments of your patient base, perhaps honoring your veterans in a way that costs no money and takes seconds of your day might be worth adding to your daily regimen.
In a time when smiles and positive feelings are needed, here's one way that, despite all of the personal protective equipment, you can still let some of your patients know you care about them, on Veterans Day and every day moving forward.
The comments and observations expressed herein do not necessarily reflect the opinions of DrBicuspid.com, nor should they be construed as an endorsement or admonishment of any particular idea, vendor, or organization.