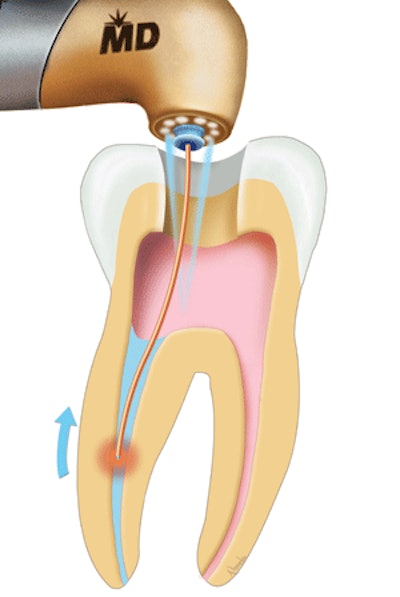 Biolase Technology's Waterlase and Waterlase MD laser systems have received 510(k) clearance from the FDA for root canal disinfection.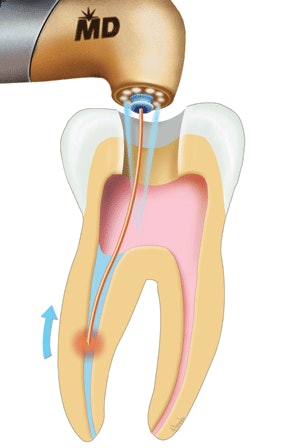 An illustration of how the Waterlase laser can be used for root canal disinfection
The systems are already FDA approved for obtaining access as well as cleaning and shaping. This latest nod will allow dentists to perform the complete root canal using FDA cleared procedures, states a Biolase press release.
"Being able to use a laser that is safer, faster, and more effective than conventional chemical disinfectants to treat a condition that affects tens of millions of individuals/year is a true advancement for our profession," said Dr. James Jesse, D.D.S., assistant professor at Loma Linda University School of Dentistry in the press release. "In my experience, practitioners can perform the root canal procedure with superior results using the laser and may save as much as 20 to 30 minutes per procedure -- a strong clinical and economic argument for using the technology."
"Clinically, we have developed and can now market a technology that is a better way to eliminate or avoid the infections that cause painful toothaches in millions of patients," said Jake St. Philip, CEO of Biolase, in the same release. "More than 15 million root canal procedures are done annually in the U.S. alone and are a large part of any dental practice and laser root canals provide benefit to both the doctor and patients, making it an important everyday commercial application."
Biolase will show off the new procedure, protocol, and associated disposables at the American Association of Endodontists (AAE) annual session being held April 9-12 in Vancouver, and also at the World Clinical Laser Institute (WCLI) Taiwan super symposium being held April 11-13 in Taipei, Taiwan. Afterwards, the disinfecting endodontic tips will be available for sale(two for $65).