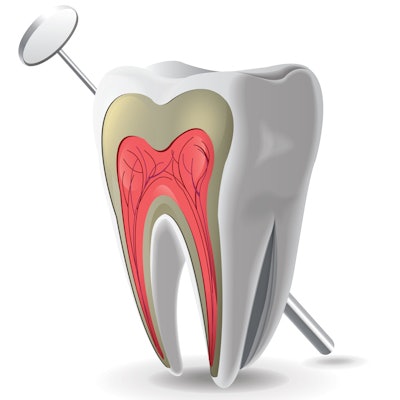 A researcher with the University at Buffalo School of Dental Medicine in New York will explore a potential biomarker supporting the success of vital pulp therapy, an alternative, less invasive treatment than a root canal.
Dr. Hacer Aksel, clinical assistant professor of periodontics and endodontics, will study the enzyme matrix metalloproteinase (MMP)-9. Research has suggested that the enzyme is a possible biomarker for predictive factors such as the inflammatory status and healthy capacity of dental pulp. Vital pulp therapy depends on those factors, according to a press release from the university.
Aksel will further study the enzyme, because its effects on cellular functions remain unknown. Specifically, the study will investigate MMP-9's effects on pulp stem cells, inflammatory cells, and endothelial cells, which are involved in the pulpal healing process.
The results from the research will help develop new biomaterials for regenerative vital pulp therapies, Aksel said in the release.
"The long-term goal is to explore immunomodulatory hydrogel-based biomaterial to resolve pulpal inflammation while maintaining cellular functions to repair and regenerate the pulp-dentin complex during the treatment of deep caries," Aksel said. "This novel approach may open new avenues to treat other MMP-associated inflammatory diseases."
The research is funded by a grant from the American Association of Endodontists Foundation for Endodontics. The grant amount was not disclosed.