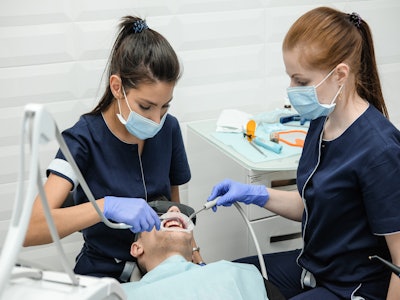 More than half of adults in the U.S. reported that they would rather undergo a root canal versus receive scam text, email, and social media messages for a year, according to study results from the 2023 scam study from antivirus software company McAfee.
The volume of fake messages received daily coupled with a rash of increasingly believable scams amid a rising artificial intelligence scam surge have left adults overwhelmed, according to a press release dated November 8 from McAfee.
"It's truly a sign of the times that most Americans would rather subject themselves to the pain and distress of a root canal than be subjected to scam texts and messages throughout the year," Roma Majumder, McAfee's senior vice president of product, said in the release.
On average, people receive about a dozen fake or scam email, text, or social messages daily. Additionally, they spend an average of about 94 minutes weekly reading, verifying, and deciding whether messages are credible, which is equal to more than two 40-hour workweeks per year.
Meanwhile, 65% of people in the U.S. reported having clicked or fallen victim to a scam, resulting in nearly half losing money, with 15% getting cheated out of more than $1,000, according to the survey of 7,000 adults.
When it came to choosing between dealing with fake messages and other stressful or scary experiences, the top answer was filing taxes monthly, with 57% of respondents choosing this option.
Of the respondents, 55% reported that they would rather sleep in a haunted house for one night than handle scam messages. This finding followed closely with getting a one-time root canal, which was chosen by 54% of respondents.
Only 40% of adults would rather have food poisoning for 24 hours than deal with phony texts, emails, and posts, according to the release.
"This onslaught of scam messages is a drain on people's time, energy, and finances," Majumder said.