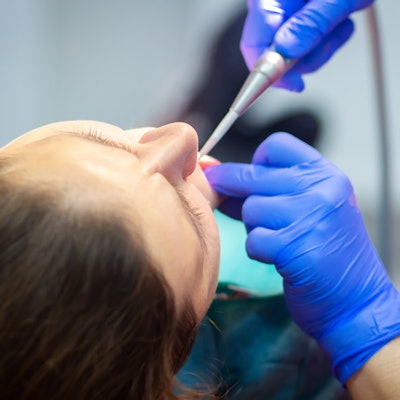 Delegates of the American Association of Oral and Maxillofacial Surgeons (AAOMS) may adopt new rules for in-office anesthesia to ensure patient safety, according to a short communication published on May 19 in the Journal of Oral and Maxillofacial Surgery.
The proposed resolutions, which would require members to participate in simulation training every five years, were developed in response to long-term criticism of the oral-maxillofacial surgery anesthesia model, the authors wrote. The association's House of Delegates will vote on the resolutions in September. Members would need to comply with the resolutions to continue offering in-office sedation, according to an AAOMS press release.
If approved, "this will assure patients and families, legislators, regulators, and other professional groups, that the cost-effective oral-maxillofacial surgery model is safe," wrote the authors, led by Dr. David Todd, a consultant to the AAOMS Committee on Anesthesia and a private practice owner in Lakewood, NY.
Since 2015, professional associations, legislators, and healthcare professionals have called for the association to end its anesthesia delivery model. Under this model, an oral-maxillofacial surgeon, along with trained assistants, administers the anesthetic and performs airway monitoring and the surgical procedure. This differs from medical procedure models which require an anesthesia provider to manage a patient's sedation. Adverse events, specifically those involving pediatric patients, in several states have led to emotional appeals for change.
Additionally, the model has been critiqued by the American Society of Anesthesia, the American Academy of Pediatric Dentistry, and the American Society of Dental Anesthesiology. These associations have their own anesthesia guidelines and training programs.
Nevertheless, oral-maxillofacial surgeons undergo longer, more in-depth anesthesia training than any other dental anesthesia providers except dentist anesthesiologists. Despite members of the AAOMS undergoing rigorous training, having a long history of providing safe office-based anesthesia, and providing most of these services across the U.S., several states are discussing possible changes to the oral-maxillofacial surgery office-based anesthesia model.
These factors triggered the association to consider some changes to ensure patient safety, according to the communication.
The association's delegates plan to vote on the following four resolutions:
Effective 2026, members who provide office-based moderate, deep, and/or general sedation must complete an association-approved anesthesia simulation training course every five years.
Effective 2026, members who provide sedation in the office must provide verification that their anesthesia assistants are certified by an association-approved process.
Effective 2022, all members must attest to conducting quarterly team mock emergency drills.
Effective 2021, all members must complete one anesthesia survey every three years.
These measures aim to better train members, develop a nationwide workforce of anesthesia assistants dedicated to oral and maxillofacial surgery, and gain insight into current practices and potential ways to improve. If the resolutions are approved and members fail to comply, they will lose their memberships, the authors wrote.
Because the oral-maxillofacial surgery anesthesia team model is at a critical crossroads, members must move forward with changes that address the concerns of the healthcare community and the public, they wrote.
"This proactive approach will reassure the public that we are vested in excellent patient care and are committed to their safety," Todd and colleagues wrote.