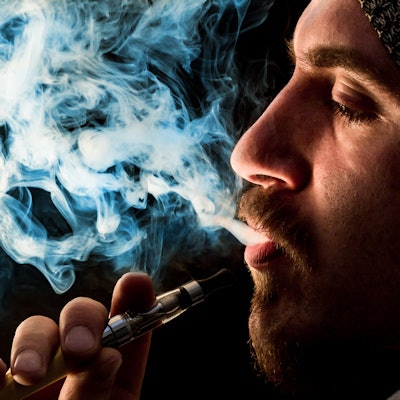 Dental Dose is a twice-monthly video series featuring pharmacologist Tom Viola, RPh. In each episode, Viola shares bite-sized pieces of dental pharmacology news, facts, and myths.
Cannabis on its own can cause oral and overall health problems. But add in an electronic cigarette (e-cigarette) dispenser, and those issues can be compounded, according to Tom Viola in the latest episode of Dental Dose.
As mentioned in the pilot episode of Dental Dose, cannabis can increase blood pressure and heart rate, and heavy users report experiencing paranoia or anxiety in stressful situations. The cannabis industry also has very little federal oversight, and cannabis may be grown with toxic antimold compounds.
This becomes a big problem when cannabis is ignited and combusted, such as when people vape cannabis. And it's a practice that's becoming more and more common, Viola noted.
"Cannabis is a perfect contender for this electronic cigarette or vaping device because people have been smoking pot -- or igniting and combusting cannabis material -- for decades," he said in the episode.
Viola breaks down some of the harms of e-cigarettes on their own and in combination with marijuana in the episode. He also highlights the pathologies dental professionals should watch out for.
Do you have a topic idea for Dental Dose? We'd love to hear it: Please share your thoughts with the team.
The comments and observations expressed herein do not necessarily reflect the opinions of DrBicuspid.com, nor should they be construed as an endorsement or admonishment of any particular idea, vendor, or organization.