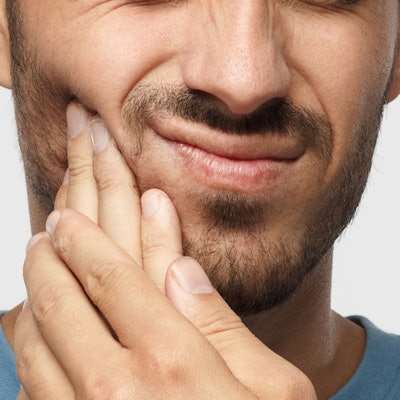 Managing patient pain while limiting opioid prescriptions poses challenges for oral healthcare providers, but cannabidiol (CBD) oil might serve as an alternative treatment, according to a commentary published on September 26 in the Journal of the American Dental Association.
The American Association of Oral and Maxillofacial Surgeons recommended limitations on postoperative opioid prescription doses in 2017. Rather than prescribing opioids for acute and postoperative pain management, the recommendations encouraged the use of nonsteroidal anti-inflammatory drugs (NSAIDs), perioperative corticosteroids, long-acting local anesthetics, and short-acting opioid medications for acute breakthrough pain.
With these recommendations comes an opportunity to explore different modalities to help manage patients' pain. One such modality might be CBD oil.
"CBD oils are biologically active low-tetrahydrocannabinol products derived from Cannabis sativa," the commentary's authors wrote, led by Dr. Scott Sullivan of the University of Texas Southwestern Medical Center in Dallas. CBD does not have the psychoactive effects of medical marijuana.
Since the Agricultural Improvement Act of 2018 was passed, which legalized hemp-based products and removed them from their designated category in the Controlled Substances Act, there has been interest in using CBD oil for a range of applications.
To the authors' knowledge, no previous studies have investigated the potential use or role of CBD oil in oral healthcare. However, studies have shown that CBD oil has antimicrobial, anti-inflammatory, antioxidant, analgesic, anxiolytic, and antiemetic properties, which may apply to myriad clinical scenarios that are common in dentistry.
Understanding how CBD oil may regulate pain pathways is of particular interest, as it differs from standard therapies. "CBD oils exert their antinociceptive effects via CB1 and CB2 receptors centrally and peripherally and through immunomodulatory actions," the commentary's authors explained. These receptors play key roles in acute and chronic pain.
"Therefore, individual or combined modulation of CB1 and CB2 receptors may have practical implications in managing pain after dental procedures," wrote the authors. Based on current research, it seems far-fetched that CBD oil would entirely replace specific treatment modalities like NSAIDs, but it is reasonable to think that CBD oil may be a valuable component of a postprocedure pain regimen.
"The intrinsic properties and the promising results in the medical literature make CBD oils an attractive therapy worthy of further investigation in dental medicine and oral surgery," Sullivan and colleagues concluded.