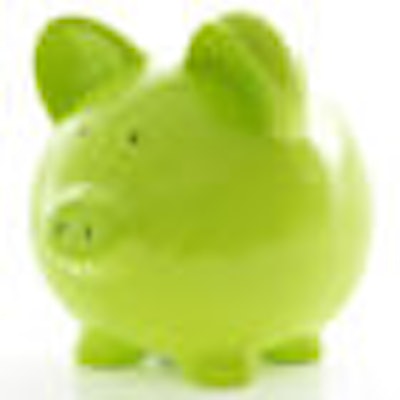 Whether at home or on the job, everyone can agree that adopting eco-friendly practices is critical to saving our natural resources. But did you know that replacing disposable items used for infection control and sterilization can also save dental practices several thousands of dollars a year?
The widespread use of disposable dental supplies -- including chair covers, sterilization wraps and pouches, patients bibs, and light handle covers -- helps perpetuate the U.S.' dependency on petroleum because single-use plastics are made from oil, according to the Eco-Dentistry Association (EDA).
"Many dentists are 'greener' than they think they are."
— Susan Beck, director, Eco-Dentistry
Association
"The oil catastrophe in the Gulf of Mexico is causing many Americans to consider the true risk of pollution-based energy," Susan Beck, director of the EDA, told DrBicuspid.com. "The dental industry can show leadership by helping curtail our nation's dependence on fossil fuels."
Environmentally sound practices can also save dentists substantial amounts of money, she added.
Many dentists may be surprised to find that disposables actually increase supply costs, Beck noted. For instance, a large disposable autoclave pouch costs about $0.20 per use, while a reusable pouch costs about half as much. Disposable items for infection control and sterilization can cost a dental practice as much as $2,337 more each year than making the "greener" choice of reusable items.
"There's a tremendous source of waste in sterilization and infection control," Beck said. Choosing disposable paper or plastic rinse cups instead of reusable substitutes alone can cost a practice $178 or more per year, she noted. One dentist reported a reduction in material costs of up to 30% after shifting to energy-conserving supplies, she said.
Amalgam separators
One of the most critically important, eco-friendly things a dentist can do is install an amalgam separator, Beck said. But only 10% to 20% of dentists use the device, which costs less than $1,000 and don't take up a lot of space, she noted.
And many dentists think they don't need separators because they don't place amalgams, only remove them. "We found that there's more amalgam waste in practices that don't place amalgams than those who do because they do so much removal," she said. "There's not enough education among dentists about this."
Beck pointed out that some companies that sell the devices will handle all compliance issues and will swap out the machine annually while others will replace the cartridge.
But many practices have already adopted environmentally responsible methods, Beck said. "Many dentists are 'greener' than they think they are without realizing it because doing it makes sense," she noted. Using digital imaging, digital patient charting, CAD/CAM systems, and steam sterilization instead of chemicals are all more efficient and eco-friendly methods.
Infection control is the next big area where environmentalists are trying to get dentists to switch from toxic chemicals to eco-friendly products. Beck recommends hospital-grade, enzyme-based disinfectants such as SciCan's Optim 33TB cleaner.
Another area for conservation is replacing wet dental vacuum pumps with dry ones. "It's a wonderful step that dentists can take to reduce water use," said Beck, noting that 360 gallons of water go down the drain every day from a single dental office. Water recirculators can reduce water use by half, she said.
Real-world results
Tips for making your practice more eco-friendly
Here are some steps dental practices can take to reduce the use of disposables and save money, courtesy of the Eco-Dentistry Assocation and Dr. Farahani:
Switch to reusable infection control barriers and sterilization pouches made of cloth. Choose plastic-free, U.S. Food and Drug Administration (FDA)-registered brands and follow the EDA's Best Practices for Waste-Reducing, Pollution-Preventing Sterilization and Infection Control (www.ecodentistry.org).
Choose reusable rinse and swish cups.
If you don't choose reusables, choose compostables. Although disposable, compostable plastics are made from plants, rather than petroleum; they require less energy to produce and decompose relatively quickly.
Implement an eco-friendly sterilization program, which simultaneously eliminates the need for disposable autoclave wraps and disposable patient bibs.
Use a dry dental vacuum pump instead of a wet one.
Use digital radiography instead of traditional film-based x-rays. If using x-rays, recycle fixer and developer solutions and recycle lead foil from x-rays.
Consider using less harmful surface disinfectants.
Use stainless steel prophy cups instead of disposable prophy-containing cups. Buy prophy paste in tubes or tubs and use only the amount of paste that is needed versus a predetermined amount, which is often more than you need.
Ali Farahani, D.D.S., has made his practice in Stratford, Ontario, eco-friendly by implementing sustainable practices and limiting outgoing waste.
"It's about changing consumption patterns," Dr. Farahani explained in an article in the Journal of the Canadian Dental Association (September 2007, Vol. 73:7, pp. 581-584)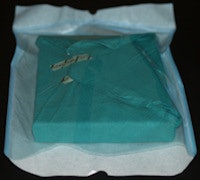 Eco-friendly cassette sterilization method. All images courtesy of the Journal of the Canadian Dental Association.
His practice saves approximately 24,600 gallons of water a year by using a dry dental vacuum pump. Dr. Farahani also recycles his autoclave bags after separating the plastic and paper portions.
He also developed a new pattern of cassette sterilization, which eliminated the use of disposable autoclave wraps and the need for paper or plastic patient bibs. In this system, once the instrument cassettes have been washed, they are wrapped in cotton operating room towels. The wrapped cassette is placed in an autoclave bag, and the cassette and towel are sterilized together.
But Dr. Farahani acknowledged that a big consideration for many dentists is the cost of implementing environmentally conscious measures, but he asserts there are long-term economic advantages. "Certainly there are significant upfront and ongoing costs for doing eco-friendly dentistry," he noted.
Using stainless steel endodontics suction tips as an alternative to disposable plastic is preferable as long as the tips are large enough not to collect biofilm, Beck said.
Instead of disposable irrigation syringes and surgical and endodontics tips, Dr. Farahani uses reusable glass or stainless steel, which can be sterilized in the same manner as dental instruments.
But Mill Valley, CA, dentist Gabriela Garcia-Rojas, D.D.S., whose practice was recently certified as a green business by city officials, tried switching to stainless steel endodontic suction tips and found them unworkable. "The stainless steel didn't look really clean after being sterilized, and they're stiff and you can't bend them," she told DrBicuspid.com. "The plastic kind has a wire inside so you can bend them to reach different areas."
Other ideas
But Dr. Garcia-Rojas has installed an amalgam separator and uses porcelain fillings to replace old ones. Instead of making plastic molds of teeth, she uses a Cerec system and also uses digital x-rays.
"We're almost paperless," she told DrBicuspid.com. "We still have the old charts, but patients now fill out forms online."
Not every experiment is a success, however. When Dr. Garcia-Rojas tried using sterilization pouches made of cloth, they ripped during the process. She also tried cardboard suction tips but found they got soggy after a while.
In keeping with the Future of Dentistry theme for the ADA's annual meeting next month in Orlando, FL, the EDA will host a Green Lounge. The entirely eco-friendly lounge will showcase dentistry's green future and include educational presentations and special offers from eco-friendly product and service providers.
For example, instead of using paper rinse cups, Beck recommends replacing them with small teacups or shot glasses that can be washed in an eco-friendly washing machine.
"Some dentists collect souvenir shot glasses when they travel and use them in their offices," she said. "It adds personality to your practice."
Copyright © 2010 DrBicuspid.com