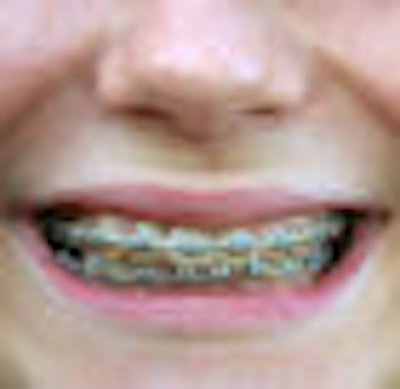 Eyeglasses and orthodontic hardware are two of the most unpopular items adolescents may be forced to wear. But a new study indicates that dental practitioners can deliver some good news to sulky young patients who have just been told they need fixed appliances.
U.K. researchers report that children do not make social judgments about other children purely on the basis of wearing a fixed orthodontic appliance (Journal of Orthodontics, June 2010, Vol. 37:2, pp. 93-99).
"It is refreshing to note that the presence of braces does not lead to negative social judgments in children."
— Tim Newton, Ph.D., King's College
London
Although a number of personality traits -- friendliness, social class, popularity, and intelligence -- are attributed on the basis of dental appearance among adults, there is a lack of data about children's judgments in relation to dental status, noted the authors.
"This is surprising against a background of high reported levels of distress from appearance-related teasing or bullying in adolescents," they wrote.
The present study sought to determine whether children make social judgments about other children who are wearing fixed orthodontic appliances. The study participants were 322 schoolchildren ages 11-12 years and 14-15 years at a state secondary school in the London borough of Merton.
They were invited to look at color photographs of one girl and one boy and to make a social judgment about these children. Participants were randomly allocated either pictures of the two children without fixed orthodontic appliances or pictures of the same children with fixed orthodontic appliances.
Among the study findings:
There was a significant effect of year group and gender of the participant on the attribute score.
There was no effect according to the presence or absence of an orthodontic appliance.
Female participants gave more positive ratings than their male peers.
There was no significant difference in the social judgments made by the participants in this study based on the presence or absence of an orthodontic appliance, the authors noted.
More acceptable?
The authors admitted that their findings may appear surprising in light of numerous previous studies that have found that subjects with visible dental differences face negative social judgments but offered some explanations for these findings.
They speculated that orthodontic appliances are considered normal by U.K. teenagers given the progressive increase in orthodontic appliance experience among U.K. children over the past two decades.
"It would appear that fixed appliances have become a well-accepted variation to normal dental appearance in adolescence," wrote the authors.
In 1983, 22% of 15-year-olds had received orthodontic treatment, they noted. But in 2003, the figure had risen to 32%.
"As orthodontic treatment becomes more commonplace among children, demand, acceptability, and perceptions are also likely to change, with appliance wear adopting a normal place within adolescent experiences," they wrote.
These findings mean that clinicians can reassure children who are potentially concerned about the risk of orthodontic-related comment from peers, the authors wrote. At the same time, however, they stressed the need for further in-depth research.
While it is well established that visible dental anomalies such as caries or trauma can lead to negative social judgments by children and adults, "it is refreshing to note that the presence of braces does not lead to negative social judgments in children, where it is seen as part of the normal process of growing up," said Tim Newton, Ph.D., a professor of psychology as applied to dentistry at King's College London who has done similar research (International Journal of Prosthodontics, July/Aug 2003, Vol. 16:4, pp. 429-434).
"There is a wider bias that we all possess in that we tend to think that attractive people are blessed with a host of positive qualities," he told DrBicuspid.com. But given the Journal of Orthodontics study findings, "parents and children need not worry about a negative impact of wearing braces in this regard," he added.
Age matters
Similar research conducted in the U.S. found differences among age groups when it comes to children's judgments of attractiveness and acceptability, according to Henry W. Fields, D.D.S., a professor and division chair of orthodontics at the Ohio State University College of Dentistry (American Journal of Orthodontics and Dentofacial Orthopedics, March 2009, Vol. 135:3, pp. 276.e1-12).
"Younger children like colored ties and shapes and more visual appliances while older children like more aesthetic appliances," he told DrBicuspid.com. "Metal show was not a big factor with young children as with adults."
Other studies related to smile aesthetics indicate that the gender of the model, their attractiveness, and the culture or nationality of the raters make a difference, Dr. Fields added.
"So drawing cross-cultural conclusions may be risky when it comes to aesthetics," he concluded.
Copyright © 2010 DrBicuspid.com