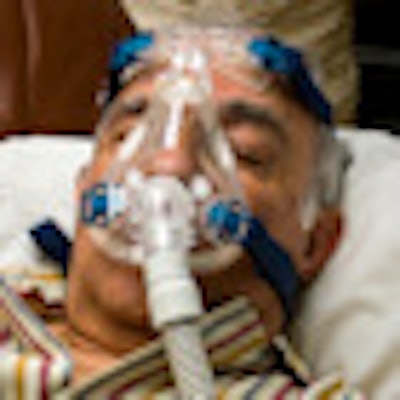 Use of nasal continuous positive airway pressure (nCPAP) as a therapy for sleep apnea over a long period of time can lead to facial changes in adults, according to a new study (Chest, October 2010, Vol. 138:4, pp. 870-874).
Many patients with sleep apnea use nCPAP as a first-line therapy. They are fitted with a mask that they wear every night that delivers positive air pressure from the CPAP machine.
Although it has been recognized that oral appliance therapy for sleep apnea can induce craniofacial and dental side effects, "there are no previous reports of these effects in an adult population using nCPAP," lead author Hiroko Tsuda, Ph.D., an assistant professor at the general oral clinic at Kyushu University Hospital, told DrBicuspid.com.
Previous studies have reported craniofacial and dental changes in children, but these reports didn't have any baseline data so it was impossible to compare the changes between pre- and post-treatments, he added.
This is the first report of craniofacial side effects of nCPAP in adults, Dr. Tsuda said. It is also the first report to present the comparison of the craniofacial and dental changes between before and follow-up treatments.
Maxillary and mandibular prominence
The authors hypothesized that most of the forces from the nCPAP machine, such as the pressure of the mask, could affect the anterior maxilla and/or anterior maxillary incisors, as well as the position of the mandible. Should this occur, it could alter the profile, decrease tongue space, and perhaps affect obstructive sleep apnea (OSA) symptoms over time for these patients.
"I don't think the mask problem is unsolvable."
— Edward Grandi, American Sleep
Apnea Association
Dr. Tsuda and his colleagues looked at 46 Japanese subjects who used an nCPAP machine on a regular basis -- at least four hours a day, five days a week -- for a minimum of two years. Most of the patients were men (more than 81%) with an average age of 56.
All the subjects received baseline and follow-up cephalometric radiographs, which were then analyzed to assess changes in craniofacial structures.
"After nCPAP use, cephalometric variables demonstrated a significant retrusion of the anterior maxilla, a decrease in maxillary-mandibular discrepancy, a setback of the supramentale and chin positions, a retroclination of maxillary incisors, and a decrease of convexity," the authors noted.
These findings led them to conclude that using an nCPAP machine for more than two years could change craniofacial form by reducing maxillary and mandibular prominence and/or altering the relationship between the dental arches.
However, none of the patients self-reported any permanent change of occlusion or facial profile. So why are these craniofacial changes of concern?
"Serious craniofacial changes could induce eating problems or serious aesthetic impairment in patients who already have additional risks, such as periodontal disease or orthodontic treatment history," Dr. Tsuda explained. Also, the changes found in this study may make the sleep apnea worse because the direction of the changes would decrease the tongue space, he noted.
This potential side effect does not mean that patients should restrict nCPAP use, however, because the benefits outweigh the risks, he emphasized. Still, sleep physicians should inform the patients using nCPAP about this possible side effect. He hopes that further investigation could lead to improved mask designs.
Teeth movement
Edward Grandi, executive director of the American Sleep Apnea Association, says teeth movement could be a possible effect of nCPAP therapy.
"Given the way the masks sit on the face, it is very possible that it would create the kind of pressure that would result in teeth movement," he said.
But there is a risk of teeth movement with any nonsurgical treatment of sleep apnea that involves an oral appliance, and the benefits of treatment far outweigh the risks, he added.
"I don't think the mask problem is unsolvable," Grandi said. "A design change could possibly resolve this issue."
The problem could be mitigated to some extent by changing masks, as that would constantly change the areas of the face that are under pressure, he explained.
Grandi does not think that sleep doctors should be sending patients to an orthodontist before treatment starts, but patients should make their dentist aware that they are undergoing this treatment.
"I would put the responsibility more on the patient," he said.
This is a relatively new issue, as the focus has been on the other side effects of this treatment, Grandi added.
"CPAP remains the best nonsurgical treatment for people with sleep apnea," he concluded.
Copyright © 2010 DrBicuspid.com