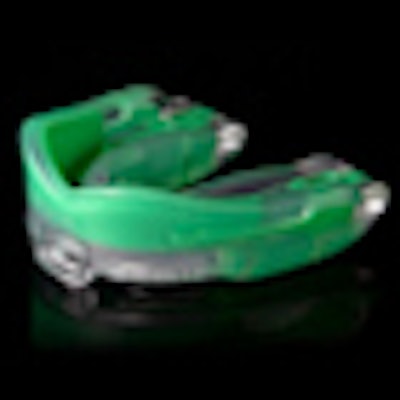 As a former professional soccer player and multisport athlete most of his life, Bruce Angus knows firsthand one of the biggest problems with mouthguards: They don't taste good.
"Anyone who has worn a mouthguard before, for sports or at night [to protect against bruxism], they know that it's not a great experience," Angus said. "People who use them complain they don't fit well, cause dry mouth, and have a plastic taste."
Even for sports in which mouthguards are required, many athletes balk at the thought of wearing them.
"The problem with mouthguards today is that because it is not a great experience, athletes often won't wear them," Angus said. "They shove them in their helmets, into their gloves -- and this is at all levels. The second the whistle blows, they want it out of their mouth."
So Angus, who played soccer in Canada and Switzerland before becoming an entrepreneur, set out to find a solution. His journey ultimately took him to the University of Wisconsin, where he happened upon a research group that had developed the ability to infuse plastic with flavoring.
And thus flavored mouthguards were born. After signing an exclusive global license with the developers of this patented technology, Angus founded MoGo Sport earlier this year. And last month the company introduced its flagship product: MoGo mouthguards. The mouthguards, which retail for $11.99, currently come in four flavors: mint, lemon, fruit punch, and orange. The company plans to introduce additional flavors as well, including grape, lime, cherry, and bubble gum. All the flavorings are natural and are compliant with the U.S. Food and Drug Administration -- no different than what goes into Gatorade, Angus noted.
"If you look at the retail mouthguard market, most of the development and design has centered around the effective capabilities, comfort, fit, and performance," he said. "We thought there was an opportunity to really change the experience of wearing a mouthguard through flavor. We also wanted to develop and design a mouthguard that would perform as well as, if not better than, any other mouthguard on the market."
Other companies have tried to add flavoring to mouthguards in the past, but with limited success, Angus noted.
"The flavoring is embedded right in the plastic."
— Bruce Angus, founder, MoGo Sport
"There have been some rudimentary attempts to do this, mostly through a spray or coating," he said. "But once it interacts with saliva, much like chewing gum, the flavor is stripped away in about five minutes. But with ours, the flavoring is embedded right in the plastic, so as long as the plastic is intact, the flavor will last."
This, in turn, entices the user to want to wear the mouthguard, Angus said.
"Sometimes they forget they even have it in their mouth," he said. "So we are changing the mouthguard from an annoyance to a performance enhancer."
The two-shot mouthguard is made of hard, clear ethylene vinyl acetate (EVA) resin on the outer-shot perimeter to maintain the integrity of the mouthguard. The inner shot, which is made of a softer material, contains the flavoring. There are pockets of material in the back molar section that are designed to trigger the saliva glands, while the rest of the flavoring is placed along the upper teeth line.
"The best way to get the flavor is to keep the product positioned properly in the mouth, which is also the best way to protect yourself from a concussive blow," he said. "Unless you are wearing it and wearing it properly, it is not going to protect you. And this is the mouthguard people will actually wear."
Big-name athletes
MoGo already claims some big-name athletes among its customers, including New York Giants tight end Travis Beckum, Major League Lacrosse All-Star Matt Danowski, and Major League Baseball's Albert Pujols. And in the upcoming National Hockey League season, some 30 player will be trying the product during training camp, according to Angus.
"One of the most interesting responses we've had to the mouthguards from serious athletes is that they have the sensation of being well-hydrated," he said. "They no longer have a dry plastic taste -- instead, their mouth is full of flavor, which stimulates a salivary response."
Another 30,000 to 40,000 athletes -- including kids -- are using the MoGo mouthguards through various sampling programs, according to Angus.
"In many sports, mouthguards are mandatory, but the battle between parent and child is always about the mouthguard," he said. "And kids are now choosing to wear our guards because they love the flavor. And once they try one flavor, they want to try more."
The mouthguards are sold through various retail outlets and online. MoGo is also working with some dentists who offer the mouthguards in their practice, and this fall the company plans to introduce flavored plastic laminate for custom mouthpieces that will be marketed directly to dentists.
"In the custom mouthguard market, all of the development in this category has been along the lines of decoration, such as team colors and designs," Angus said. "But we can create the laminate sheets that dentists and dental labs use to make mouthguards, and now they can make them with flavors and offer a range of flavors."
MoGo will also give the dental practices sample flavor sticks to let patients taste them and choose which flavor they want the custom mouthguard to contain, he added.
"We think that, through flavor, we're letting athletes really focus on their game and performance rather than this piece of defective equipment in their mouths," Angus said. "Our sense is that if you can completely change the experience into a positive one, where they are getting hydrated, there is a pleasant flavor, they can breathe better, and they are protected, more athletes might start wearing them."