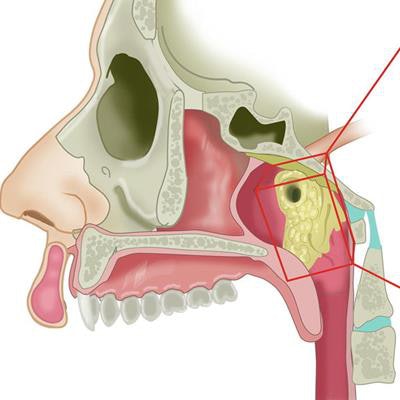 Imaging with the use of a prostate cancer biomarker has led to the discovery of a pair of salivary glands, found tucked away inside the skull where the nasal cavity and throat meet. The findings were published recently in Radiotherapy & Oncology.
Positron emission tomography (PET)/computed tomography (CT) with radiolabeled ligands to prostate-specific membrane antigen (PSMA), a well-characterized imaging biomarker for prostate cancer, visualized the glands, which are being referred to as tubarial glands. Sparing these glands may help prevent radiotherapy (RT) side effects, such as dry mouth, and help head and neck cancer (HNC) patients maintain better quality of life, according to authors.
"To our knowledge, this is the first description of paired macroscopic (sero)mucous gland locations in the human posterolateral nasopharyngeal wall, and an indication of their clinical relevance in RT for HNC," wrote the group, led by Dr. Matthijs Valstar from the department of head and neck oncology and surgery at the Netherlands Cancer Institute (Radiother Oncol, September 22, 2020).
New imaging, new views
The newer molecular imaging modality PSMA-PET/CT can visualize salivary glands with high sensitivity and specificity, Valstar and colleagues wrote. This allowed the researchers to observe an unknown bilateral structure posterior in the nasopharynx, with ligand uptake much like that of the known major parotid, submandibular, and sublingual salivary glands.
The researchers hypothesized that the new structure could play a physiological role in swallowing and lubrication in the nasopharynx and oropharynx. Therefore, learning more about this new gland could potentially benefit patients with head and neck cancer. When salivary glands undergo high-dose external-beam radiotherapy during treatment, it can result in patients experiencing xerostomia and dysphagia. These conditions can lead to several problems, including a higher risk of caries and oral infections and speech and digestion difficulties. As a result, major salivary glands are considered at-risk organs and need to be spared; the researchers set out to determine whether this unknown glandular entity also should be protected.
The analysis
Valstar and colleagues evaluated PSMA-positive tissues in the nasopharynx on PSMA-PET/CT scans from a retrospective study of 100 consecutively scanned patients with prostate or urethral gland cancer. In addition, morphological and histological characteristics were assessed in two human cadavers. To study the effects of radiotherapy on salivation and swallowing, they also analyzed clinical data collected from a cohort of 723 HNC patients. They evaluated the association between radiotherapy dose and xerostomia or dysphagia using multivariable logistic regression analysis.
All 100 patients with prostate or urethral gland cancer demonstrated a divided bilateral PSMA-positive area with an average length of 4 cm. Examining the glands and 3D reconstruction confirmed the presence of PSMA-expressing, predominantly mucous glands with multiple draining ducts. They were found predominantly near the torus tubarius, according to the authors.
In the head and neck cancer patients, the mean RT dose to the gland area was significantly associated with physician-rated post-treatment xerostomia and dysphagia of at least grade 2 at 12 months. The results were similar during follow-up at 24 months, according to the authors.
The study had some limitations; for example, 9% to 37% of the toxicity data were missing at some points due to death, recurrence, or limited follow-up visits, they wrote.
Clinical protocol changes on the horizon?
Viewing tubarial glands as at-risk organs when administering radiotherapy would seem to be the next logical step, according to the authors. However, they believe that external validation in an independent dataset should be acquired and the information should be further studied before changes to clinical protocols are made.
"We conclude that the human nasopharynx contains previously overlooked bilateral macroscopic salivary glands," they wrote. "Our findings indicate that sparing these tubarial glands could provide an opportunity to prevent side effects from radiotherapy and better maintain patients' quality of life."