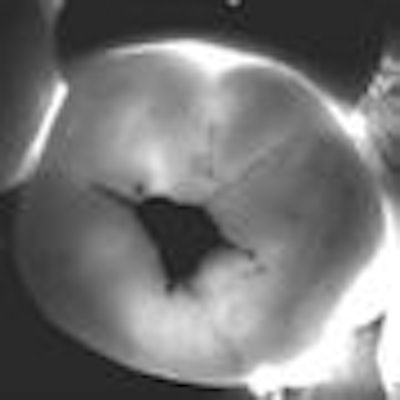 Imagine being able to find -- and perhaps even reverse -- a carious lesion before it's detectable on an x-ray. Imagine being able to "see" whether demineralization has begun and how advanced it might be.
X-rays and visual examination have long been the dentists' diagnostic methods of choice. But x-rays routinely miss 70% to 80% of occlusal caries. And even the most well-trained eye cannot see what havoc bacteria may be wreaking beneath the tooth's surface. Nor can it determine the degree of demineralization that may be taking place.
A number of products now offer dentists the ability to do just this, and in some cases even more. The key is light -- or, more precisely, photons. While these optical detection systems are not intended to replace visual examinations or radiography, they do provide additional information about what is going on in a tooth at the microscopic level. However, even for those products already on the market, the jury is still out on how useful they are beyond serving as an adjunct to x-rays and visual exams.
One of the first optical devices developed specifically for caries detection was the DIFOTI (digital imaging fiber-optic transillumination) system, developed and marketed by Electro-Optical Sciences. Introduced in 2001, it is the only instrument of its kind to be approved by the FDA for the detection of incipient, frank, and recurrent caries. A single fiber-optic cable in the patented mouthpiece delivers visible light to a tooth's smooth surfaces. As the light travels through layers of enamel and dentin, it scatters in all directions toward the nonilluminated surfaces. The light is then directed through the mouthpiece to a CCD camera in the handpiece. The camera digitally images the light emerging from the various surfaces of the teeth. These images are displayed on a computer monitor in real-time and stored on the hard drive.
A number of clinical studies involving DIFOTI have been conducted over the years, and the findings consistently support the viability of this device for imaging cracks and detecting some early caries. For example, a 2005 study that looked at the DIFOTI system for evaluating early approximal lesions concluded that although the device was not able to measure the depth of a lesion in any of the samples, it was able to show surface changes associated with early demineralization as early as two weeks (Journal of the American Dental Association, December 2005, Vol. 136:12, pp. 1682-1687).
DIFOTI initially sold for about $6,500. But in 2006 the company signed an exclusive licensing agreement with KaVo for all marketing, sales, service, and further development of the system. At this point, it is not clear what has happened to the product; there is still a DIFOTI Web site (www.difoti.com), but if you call the sales/service number on the site, you will be told that Electro-Optical Sciences no longer has anything to do with the product and that you should contact KaVo Dental. Repeated queries to KaVo went unanswered.
Glowing bacteria
KaVo is better known for another optical caries detection device, the Diagnodent. The system, which was introduced in 2003 and currently sells for $3,150, uses a red diode laser to measure the amount of fluorescing bacteria in a suspect area. As the laser beam passes over the tooth, the system "beeps" if any fluorescence is detected. A numerical value between 1 and 100 is then displayed, indicating the degree of decay being detected.
At the Diagnodent wavelength (655 nm), clean, healthy tooth structures exhibit little to no fluorescence. A reading between 15 and 30 may require a preventive fluoride prescription to encourage remineralization or restorative care, depending on the caries risk assessment. Numbers greater than 30 indicate the probability of advanced disease and the need for operative treatment.
While numerous clinical studies have demonstrated the viability of Diagnodent for enhancing caries detection (the KaVo Web site lists 27 articles from scientific journals, dating back to 1998) and the company currently claims that the Diagnodent system is being used in 20% to 25% of dental offices, its utility is limited.
According to a 2006 study (Journal of Clinical Dentistry, 2006, Vol. 17:3, pp. 53-58), "While the Diagnodent is an important diagnostic device, particularly for diagnosing hidden carious lesions in the dentine layer, it should be used along with visual examination in clinical practice, as [it] is not superior to visual examination in detecting early stages of carious lesions."
"We use it in our office, and the literature supports that it is a nice adjunct, but it should not be used by itself as a way to detect caries," said Edwin Parks, D.M.D., M.S., director of dental radiology at Indiana University and a member of the DrBicuspid.com advisory board. "Specificity is an issue with the Diagnodent. There are too many false positives that can come from the depth of the fissure or from staining. Threshold is a big issue also. At what point does a reading indicate a clinical issue, and what value indicates a carious lesion versus a deep pit?"
Another commercially available caries detection system uses light-emitting diodes rather than laser to detect decalcification and occlusal and interproximal caries. The D-Carie system was developed by Neks Technologies, which was acquired by Dentsply in 2007. D-Carie gained FDA clearance that same year and sells for $3,100, now under the name Midwest Caries I.D.
Like Diagnodent, the pen-sized, cordless device provides both an audible signal and visual cue (green light turns to red) when fluorescence from decay is detected. According to a study performed at the University of Montreal and presented at the 2006 International Association of Dental Research meeting, a comparison of caries detection using D-Carie and Diagnodent on 39 teeth found that sensitivity was 91% for D-Carie compared to 93% for Diagnodent, while specificity was 60% for D-Carie compared to 26% for Diagnodent.
"The D-Carie, which uses both IR [infrared] and light fluorescence, is better than Diagnodent for caries detection, but it still focuses on cavitated lesions," said George Stookey, Ph.D., distinguished professor emeritus at Indiana University and president and CEO of Therametric Technologies.
More useful would be the ability to measure early demineralization in tooth enamel, a precursor to decay, Stookey added. Therametric is working to commercialize a technique called quantitative light fluorescence (QLF) that can do just that.

Part II of this series on optical caries detection systems focuses on the pros and cons of QLF as it nears commercial release.
Part III looks at near-infrared imaging and optical coherence tomography.