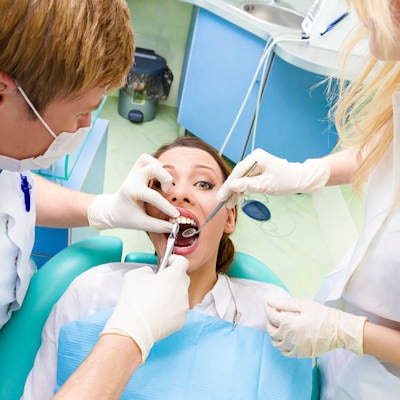 The peak number of patients that dentists can see daily has shrunk considerably due to new protocols implemented to control the spread of COVID-19. However, patient volumes remain close to maximum levels, suggesting offices weren't very efficient before the pandemic.
Dental practices had the capacity to treat a maximum of 32 patients per day prior to COVID-19. With staggered appointments, new infection control protocols, and efforts to maintain social distancing, dentists can now see a maximum of about 24 patients per day. The current average is about 21 patients per day, according to data released on July 8 from the ADA's Health Policy Institute (HPI).
"Evidence suggests pre-COVID-19 dentists were not busy enough and could see more patients," said Marko Vujicic, PhD, chief economist and vice president of HPI, in reference to the data, which included responses from 4,300 dentists.
Based on high unemployment numbers and how the industry fared following the Great Recession, some experts have doubted whether dentistry could bounce back following lockdowns and orders for dental practices to postpone all nonemergency care. HPI has projected that dental spending will take a $56 billion hit in 2020 if patient volumes settle at about 80% of projected prepandemic levels, which is much better than the $100 billion it projected in May. But there is uncertainty as to how these statistics will change if states like Florida and Arizona, which have become the new hotbeds for COVID-19, face new stay-at-home orders. Nevertheless, data show that COVID-19 may have driven more practices to do more with less.
Boosting efficiency
HPI made these predictions based on patient capacity and the belief that most dental practices have not changed their hours of operation to accommodate more patients. Of those dentists who responded, only 16% have increased their hours. Another 16% reduced hours, and the rest are open the same hours and days that they were before the pandemic.
"Taken together, the data suggest the dental care rebound is slowing, and we might be soon approaching a plateau in terms of patient volume," Vujicic said.
"The evidence suggests capacity constraints in dental offices might be just as important as demand-side factors in limiting patient volume," he noted.
Signs of a grinding halt
Industry experts have worried that although early data showed the industry was making a strong recovery, it was likely not going to keep up that pace.
A complete recovery from the COVID-19 pandemic probably isn't in the cards for the dental industry in 2020. Dentistry most likely can expect a return to about 80% of prepandemic levels, according to the data.
As of the week of June 29, all states had reopened for elective dental care, and 97% of dental offices located in the 27 states where elective care has been available for the past nine weeks had reopened. About 42% of practices reported operating "business as usual," Vujicic said.
In those states, patient volume had rebounded to 72% of pre-COVID-19 levels. That gain is smaller than it had been during the previous weeks. Patient volume was about 65% during the week of June 15, the data showed.
"Patient volume appears to be leveling off," Vujicic noted.
Hiring also has hit a wall. About 92% of respondents reported paying their staff, which is the same percentage during the week of June 15. About 90% were paying their teams during the week of June 1.
"We might be near new normal staffing," Vujicic said.
Practices, however, are not hiring back employee dentists as quickly. About three out of four employee dentists now are being fully paid in the 27 states that reopened weeks ago. That number is largely unchanged from the prior two weeks, he said.
"Employee dentists lag in terms of rehiring, and we could be stabilizing at a new normal," Vujicic said.