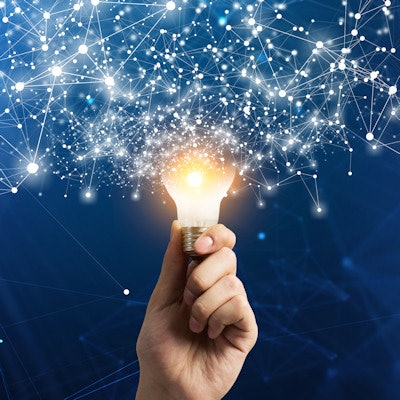 Looking at the calendar, we're not that far away from the end of 2020. It's been a challenging year to say the least, and many of us will be glad to see the clock strike midnight on December 31 and a new year begin.
But what will 2021 hold? That's the biggest question for your dental practice to consider now as you plan for a new year filled with new challenges and opportunities.
One of the things that I've been doing here at DrBicuspid.com is looking at what's to come in the industry that could change the way we all look at dentistry. So far, I have seen a few interesting things.
Personally, I'm very interested to see what the Dental AI Council will mean in terms of artificial intelligence (AI) and its effects on dentistry. As stated in an article on the council's formation: "The Dental AI Council, which includes practitioners, equipment manufacturers, insurance carriers, and many others, will conduct research and work to stimulate greater understanding of the technology as AI begins to yield increased efficiency, accuracy, consistency, and insight in dental applications."
Look for more on this soon on DrBicuspid.com.
As my friend Dr. Anthony Stefanou wrote about earlier this week, there are plenty of trends to watch when it comes to dental service organizations (DSOs) heading into 2021 as well. I highly recommend you give his article a read if you're interested in the DSO space.
What about other things that have piqued our interest over the past few weeks and perhaps indicate what is to come in the dental space? Let's dive in and also hear some thoughts from experts in the field.
Social media
Rita Zamora is one of the dental industry's go-to experts when it comes to social media. She is also the author of Get Found, Get Liked, Get Patients: Making the Most of Social Media and the founder of Connect90.com. I asked her to share three things she is watching in terms of social media heading into the new year. Here's what she said.
Community-driven content
"For years, dentists and office managers have considered establishing relationships with local schools, churches, or business owners -- and sometimes this proved challenging. Today, there is a great need for donations of every kind, whether it's hygiene supplies, soap, toothpaste, or a number of other items. Perhaps your local school needs thermometers for their students or maybe even an air purifier you can donate for a classroom. Schools may have had restrictions on the donations they could accept in the past, but COVID-19 has created a tremendous need, and this is your time to help. The bonus is the new relationships you'll establish for your practice. Any of the assistance or donations you provide will make for uplifting and valuable content for your social media.
Bite-sized content
"Many practices have been hesitant to get on board with TikTok. One reason is the platform is best known to attract young users (13- to 24-year-olds represent 69% of the app's user base). TikTok was also controversial this year; at one time there was talk of the app being banned in the U.S.
"Enter Instagram Reels: a new option to create and discover short, entertaining videos on Instagram. Reels allows you to create fun, 15-second, multiclip videos with audio, effects, and new creative tools. With 33.2% of U.S. Instagram users between 25 and 34 years old, there will be a variety of new opportunities to create bite-sized, powerful content for your practice. Get on board and take advantage of the visibility for your practice before everyone else crowds the space.
Strategic content
"It doesn't have to take a village to manage social media. Yes, you'll still need to keep your practice looking current and legit by posting fresh content to Facebook, Instagram, and even Google My Business (it's not social media, but you should still post content there). The good news? You can save time and get better results by using an online calendar and scheduling tool. Many practices are posting spontaneously to social media, whenever they have time or have a good photo opportunity. However, there's no way to be strategic and meet your practice goals when you are free flowing.
"Now is the time to get your practice on a content calendar and scheduling tool. This will save you time and help you reach your practice goals. Check out connect90.com for more information on the trend of hybrid social media management."
A different way of ordering
As consumers, we have become accustomed to online ordering and expect the shopping experience to be quick and easy. Companies like Amazon, Walmart, and Google Shopping have invested heavily in tools and technology that allow us to view options from multiple sellers, compare prices and options, and view our purchase history and trends, and they serve up data-driven suggestions to help us make better decisions. But what about the purchasing and the user experience for dentists? That's where companies like Method Procurement come in.
Method's cloud-based platform includes the industry's first Universal Dental Catalog, a cost-comparison tool designed to allow buyers to view many distributors' online inventory and pricing in real-time.
"We believe suppliers should be held accountable to quoted pricing, correct shipments, and accurate invoices," said Daniel Traub, vice president of product for Method. "We believe our solution makes it simple to analyze data about your buying patterns and identify areas for improvement that will deliver financial results quickly."
Could this be an answer the next time the supply chain is disrupted because of a natural disaster or pandemic? By feeding into a network that has an overview of all options, dental practices could likely get a boost from knowing the complete available picture rather than just relying on their past ordering experiences.
Dental insurance
When it comes to dental insurance and what's coming down the road, no one is more plugged in than Teresa Duncan of Odyssey Management. I asked her to share what trends she sees coming for dental insurance in the new year, and here's what she said.
Offices will make strategic carrier decisions
"COVID-19 exposed some unprofitable participation arrangements for many practices. Leased networks have grown as a source of frustration, which contributes to the sentiment of 'this isn't worth it.' There is a testing of the waters right now. Providers who thought a non-preferred provider organization (PPO) model wasn't possible in their area are more willing to consider their options. In-house membership plans are seeing a rise in popularity as providers reduce their carrier dependence. Practice owners have also seen the cost of labor rise as participation levels increase.
The insurance coordinator role will continue to grow
"More offices are seeing the value of dedicating more full-time team members to insurance. This role requires a knowledge of state laws and regulations and familiarity with contract language. An insurance coordinator is responsible for a large part of an office's revenue cycle. Rolling this up in reception or manager duties can lead to missed appeal opportunities and incorrect adjustments. There has been a boom in companies offering account cleanups for just this reason. I believe this coordinator role will grow not only in number but also in importance in 2021.
Outsourcing is growing in popularity
"Practices seeking efficiency will look to outsource the most mundane and time-intensive tasks. Paying a high salary for your insurance coordinator to check eligibility and benefits will not yield a good return on investment (ROI). That team member is much more valuable discussing benefits with patients or appealing a claim. The shortage of team members (which began prior to COVID-19) means that existing employees will shoulder more tasks, which leads to more burnout. Repetitive insurance tasks are easy to take off the full plates of your team members. Eligibility and benefit checks are the first things that many practices outsource because of time demands, and I think more practices will see additional benefits moving forward."
Convenience for patients becomes key
As a part of Smith Family and Cosmetic Dentistry in Jacksonville, NC, a practice that opened not long before the COVID-19 disruption, Diana Nakao, RDH, knows the importance of keeping in touch with her patients and ensuring their oral health is trending in the right way.
How Nakao is keeping in touch with her patients has changed in the wake of the pandemic, and that's one of the reasons why she has been so excited to see the launch of Colgate Professional Direct. In an era where everything can be ordered online --from groceries to cosmetics to dog food -- and shipped directly to the consumer, Nakao sees an opportunity in the dental space. Hygienists can still be influencers while working with products they know well and believe in, while patients can get that expertise along with the convenience of a purchase and delivery style they know well.
"As hygienists, we need to actually try to educate ourselves and research thoroughly," Nakao said. "Before recommending something to anyone else, we have to be confident in what we are saying. Otherwise, we wouldn't be authentic. Patients are smart and they can tell the difference between us trying to sell something to them and having the best intentions for their oral health."
Nakao has quickly become a believer in Colgate Professional Direct, which helps dental professionals make product recommendations to patients via text or email. Patients can then click on a link and order the products at a discount, the company said. Dental professionals who use the site will receive 10% of sales amounts, which they can direct, if they wish, to the Colgate Bright Smiles, Bright Future program, according to the firm.
Combining trusted products with convenient, safe, and free delivery is beneficial for dental professionals and patients alike, Nakao said.
"The timing of this site launch was perfect, I think," Nakao explained. "I have become a person who uses curbside pickup for groceries, medicine, and many other things. If I don't physically have to go into the store now, I won't. Many of our dental patients feel the same way. If they can get the products they need and we trust delivered right to them, it's a perfect blend."
The comments and observations expressed herein do not necessarily reflect the opinions of DrBicuspid.com, nor should they be construed as an endorsement or admonishment of any particular idea, vendor, or organization.